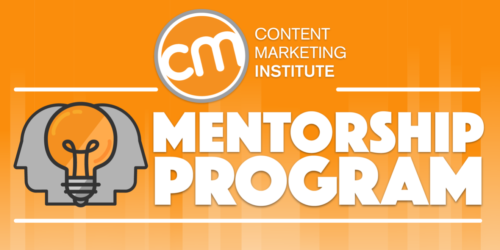 For over a decade, CMI has stayed true to its mission: advancing the practice of content marketing. To accelerate growth and continue to drive change in our industry, today we are proud to launch the CMI Mentorship Program.
Our mission is straightforward: to create a community united by their desire to:
Advance marketing thought leadership
Help fellow marketers succeed
Create a more inclusive future in the industry
The CMI Mentorship Program provides a meaningful framework for action. We're placing emphasis on helping groups in great need of industry representation. We will do this by leaning on our community's expertise and resources to help pave the way for future content leaders.
WHO SHOULD APPLY?
Are you a content marketer? Looking for career guidance from someone outside your organization who understands the industry landscape? Need to talk through the marketing challenges you face? Then YOU should apply!
WHAT'S IN IT FOR ME?
The CMI Mentorship Program offers many opportunities for participants.
Presents a chance to broaden your network.
Gives one-on-one guidance to expand your perspective and learn the skills you need to succeed.
Nurtures your own thought-leadership perspectives.
As a participant of the CMI Mentorship Program, you will receive a complimentary All-Access Pass to this year's Content Marketing World. With over 100 speakers and dozens of tracks, you will be able to create your own content experience! A select group of Mentors and Mentees will be invited to speak at the conference on the topic of mentorship and its importance to personal development.
HOW DOES THE MENTORSHIP PROGRAM WORK?
Each Mentor/Mentee partnership will be unique. We require three meetings during the six-month long program. Group events will be held throughout the summer months, but attendance is optional. (We do hope all participants join!) These events not only will cultivate a good relationship between Mentors and Mentees but will offer participants networking and growth within our community.
WHO ARE THE MENTORS?
Our Mentors have been hand-selected by the CMI Team and will help support and guide the program. This group includes chief marketing officers, presidents, thought leaders from academia, and marketing trailblazers from Microsoft, RBC Wealth Management, Informa, and more. See the full list of mentors here.
WHAT'S THE COST?
There is no charge for our mentees, aside from a time commitment. This program is about growing the industry and encouraging networking and peer collaboration.
HOW DO I APPLY?
It's easy! Just complete our online application. All applicants must submit a resume and answer two questions.
What do you hope to gain from this mentorship?
What is your biggest marketing need right now?
You are also encouraged to include a short video introducing yourself, but this is optional. Not submitting a video will not affect your chances of being accepted into the program.
Applications are due Friday, March 19, 2021 and can be submitted here.
If it is not the right time for you to participate in the mentorship program but you would like to help, share this post with your colleagues and peers. Do you know a suitable candidate? Encourage them to apply.
Have additional questions? Leave us a comment here or email [email protected].
Posted March 1, 2021 in: Event by Monina Wagner
---