Content Marketing World is part of the Informa Connect Division of Informa PLC
This site is operated by a business or businesses owned by Informa PLC and all copyright resides with them. Informa PLC's registered office is 5 Howick Place, London SW1P 1WG. Registered in England and Wales. Number 3099067.
Applying Content Marketing to the Employee Audience: A #CMWorld Chat with Carla Johnson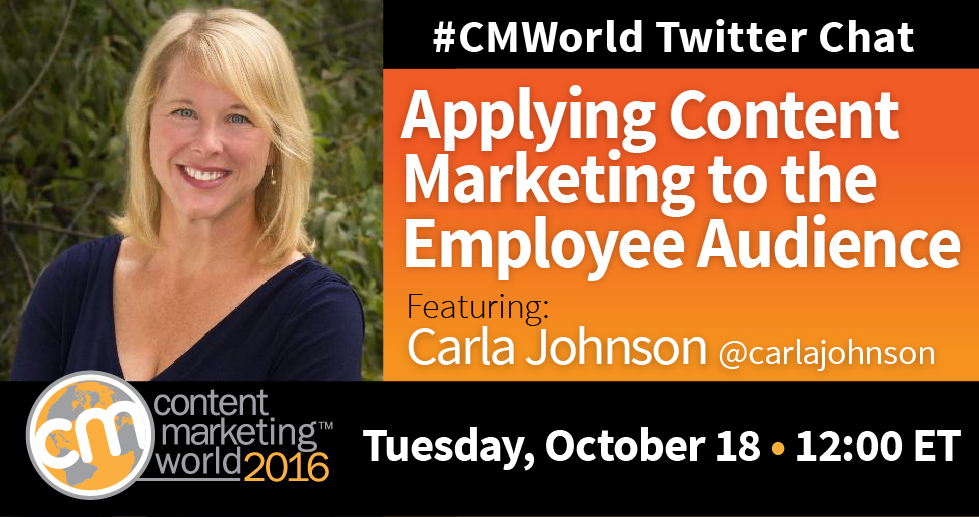 Is your company doing enough to engage your employees with your content marketing?
This week, Type A Communications Chief Experience Officer Carla Johnson joined us on the #CMWorld chat to share her expertise.
Johnson cites a Gallup poll estimating that disengaged employees cost the United States $450-$550 billion in lost productivity each year. In order to be successful engaging employees, you need planning, buy-in, and great content. Employees need to understand your brand's purpose and how their roles support it.
If the idea sounds intriguing to you, read on. A few takeaways from the chat are below. Visit this chat's Storify to see more tweets on the topic.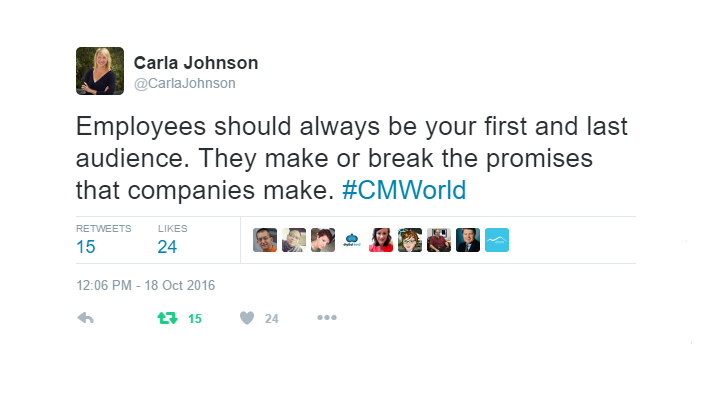 Appreciate your employees for who they are
We know content marketing is about relationships. And those relationships begin with your employees.
No matter the industry, educating employees is key
To deliver a remarkable experience to customers, we need to educate and encourage our employees. We should approach internal teams with the same strategy as we would our consumers.
Join us every Tuesday at 12pm ET on our #CMWorld Twitter chats
Posted October 19, 2016 in: Event by Monina Wagner
---
UP