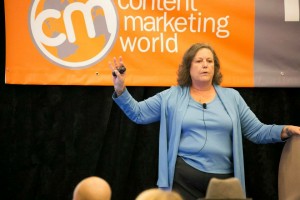 Every Thursday, a Scripted writer will recap a session from Content Marketing World 2014 that will be published here on the CMWorld blog. Find out more about Scripted by visiting their website.
Does your lead nurturing strategy meander without any clear direction? Ardath Albee, CEO of Marketing Interactions, Inc. and author of  Digital Relevance, thinks that marketers create plenty of content, but aren't sure what their content actually accomplishes. At Content Marketing World 2014, she took the stage emphasizing the importance of telling the right story to the right audience. These tips from her presentation will bring new focus to your content marketing strategy — here's what she had to say:
1. Develop A Story For Your Buyers
Content must engage buyers in a continuous, highly-relevant story where the buyer has a problem, and you have the answer that can solve it. The "buyer" is more than just the person who cuts the check — this also includes the full team of people who influence the buying decision.
Albee uses LinkedIn to study potential buyers. She looks at their job titles and what people write about them to gain an understanding of who buyers are and what they value. Then, she uses themes and commonalities to assemble a buyer persona. Next, Albee identifies the buyer's aspiration. Finally, she connects the buyer's aspiration to her client's unique value. She says your company has to do more than just solve the buyer's problem. You have to show them that you can solve it better than anyone else.
2. Deliver The Story
Albee reminds us that content marketing has to work beyond the confines of your database. Some buyers engage with content when prompted, either by email marketing or social media. Other buyers follow a self-service model, which means that they take the initiative to find your content on their own. After you've developed a story for your buyers, model a few different scenarios for how you'll deliver the story.
Set up a few different content delivery scenarios for your personas, but don't create so many that you can't test and manage them. Share content through email and social media. You can also create self-service content hubs for visitors who are not in your database. Albee recommends setting up content hubs on either your primary domain or a subdomain. Your hub can be topic-driven or laid out for different types of buyers.
3. Never Forget A CTA
Albee points out that most marketers place content on the Internet, but they fail to include a call-to-action (CTA). Buyers receive and consume the content, but aren't given the next step in the process. Include CTAs in all of your content, and note which work and which don't. Then, incorporate the ones that do work into both existing and future content.
As buyers work their way through your lead nurturing pathways, look for patterns that can compress future buying periods. For instance, figure out which topics and content formats people use, and learn what content works best at which stage of the buying process. Then, focus your content creation on the types of content that people have found useful.
4. Measure Performance the Right Way
The goal of content marketing is to generate more revenue through building brand awareness. However, it's a mistake, according to Albee, to measure content marketing success with sales dollars. Marketers support sales teams by shortening the buying period and sending more qualified leads to sales. They gather, nurture and qualify leads for sales, but they don't actually make the sale.
Take responsibility for giving the sales team a steady stream of great leads by creating a unified story and sharing it with the right decision makers. However, let sales take ultimate responsibility for sales dollars. It's up to them to execute the opportunities you provide. As long as you're providing them, you're generating results.
Do you have a lead nurturing success story? How about measurable examples of effective content marketing? Share your comments below.
Scripted provides high-quality, original content for a flat rate with a set turnaround time. Post guidelines for what you need, and five days later you'll receive professionally written and edited content.
Posted January 29, 2015 in: Event by Scripted Writers
---