Content Marketing World is part of the Informa Connect Division of Informa PLC
This site is operated by a business or businesses owned by Informa PLC and all copyright resides with them. Informa PLC's registered office is 5 Howick Place, London SW1P 1WG. Registered in England and Wales. Number 3099067.
Automate Your Email Marketing Like a Pro: A #CMWorld Twitter Chat with Liz Willits
Email is a tried and true marketing channel. In fact, our latest research found 87% of marketers use email to distribute their content.
There is a lot of new innovation that can strengthen your email strategy. There's no wonder why marketers would use technology; automated emails drive 60% higher open rates. But that doesn't mean you should use automation blindly and expect great results.  
Email pro Liz Willits sat in on a recent #CMWorld Twitter chat. As Senior Content Marketing Specialist at AWeber, she creates automated client emails that build relationships and grow their brands. She shared with participants the biggest automation mistakes she's seen (and how to avoid them). You'll find her tips in this post. Big thanks to our community for sharing their insights too.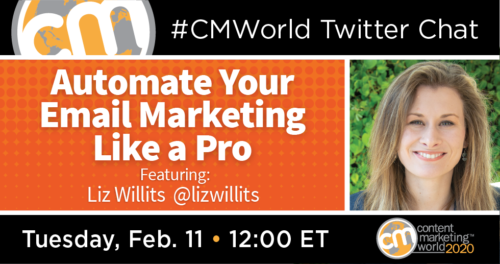 If a marketing automation tool is part of your tech stack but you're not using it to its potential, what are some easy and essential ways to get started?
Is marketing automation best for every email campaign? Are there campaigns that shouldn't be automated?
Is design something that can be automated? Should you get that granular with your data to learn which colors, layout or design resonate with particular segments or personas?
With consumer data privacy at the forefront, what extra steps need to be put in a marketing automation program?
What has been your experience with email automation? How did you start? Are you finding success? Tell us in the comments below.
Ready to learn more about automating email the right way? Want to discuss it further with Liz? Attend her session at #ContentTECH Summit. Save $100 on your ticket with code SM100. 
Posted February 12, 2020 in: Event by Monina Wagner
---
UP