Content Marketing World is part of the Informa Connect Division of Informa PLC
This site is operated by a business or businesses owned by Informa PLC and all copyright resides with them. Informa PLC's registered office is 5 Howick Place, London SW1P 1WG. Registered in England and Wales. Number 3099067.
Avoiding Marketing Burnout: A Twitter Chat with the #CMWorld Community
Marketers are complicated beings. We're pulled in many directions – email, social media, deadlines. Often, we find ourselves "always on," unable to unplug. This leads to burnout. The physical, emotional, and mental exhaustion is just the start. What sometimes follows are diminished motivation, lackluster performance, and a pessimistic attitude.
A Digiday+ study found 32% of agency pros felt burned out and were worried about their mental health. What's triggering this insurmountable stress? And can we reverse it?
We went to the CMWorld community to find out, and the topic sparked a robust conversation. Read on to discover great insights from marketers around the globe.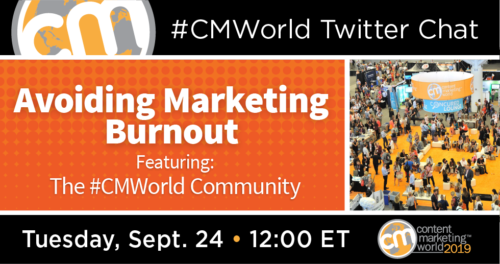 Is burnout inevitable?
How can managers address burnout? What can they do to support their teams?
But our community urges: Be your own advocate.
We found that when we prioritize our well-being, our creativity and productivity improve. So how can marketers de-stress? Our community share their ideas.
Digital detox (John Buglino suggests turning off tech at least a half hour before bedtime.)
Watch TV or catch a movie (Michael Joseph currently is enjoying Disenchantment and The Chef's Table.)
Read (David Simanoff is reading The Vorrh right now.)
Listen to music (Rachel Wendte is jamming to Juice and Cody Fry.)
Exercise – hike, swim, take a walk, yoga
Cook
Color
Journal
Community members believe in the importance of balance and gave advice on how to enhance well-being in our professional lives.
A few helpful resources were shared during the chat.
James Tenant also tweeted out this insightful video.
What advice do you have for preventing burnout and finding balance? Tell us in the comments below.
Ready for more valuable industry insights? Catch the #CMWorld Twitter chat on Tuesdays at noon Eastern. Connect with content marketers from around the globe and discuss a different topic every week.
Posted September 25, 2019 in: Event by Monina Wagner
---
UP