Content Marketing World is part of the Informa Connect Division of Informa PLC
This site is operated by a business or businesses owned by Informa PLC and all copyright resides with them. Informa PLC's registered office is 5 Howick Place, London SW1P 1WG. Registered in England and Wales. Number 3099067.
Bad Habits That Lead to Bad Content: A #CMWorld Twitter Chat with Emily Phelps
Who hasn't fallen to bad habits? I know I have. It's happened not only at home. (I'm drinking too much soda these days.) But let's talk about work. Are you sabotaging your content marketing? DisruptOps' Emily Phelps thinks you might be.
Emily identified seven common issues that sabotage a marketer's efforts. Emily and the CMWorld community analyze each habit in detail. What follows are highlights of our Twitter chat.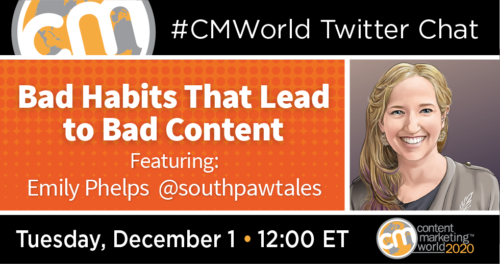 Is there such a thing as too much personality when it comes to content? Does brand voice really matter?
Personas are key for keeping everyone on the same page. But what are some mistakes people make when it comes to them?
Should you outline your content before you start writing? Or does outlining it make your writing sound stale or unnatural?
Let's talk writing and SEO: Should we write for people or search engines?
What about clarity. Are there words or phrases you should avoid when writing?
The process of content review can directly impact the results. What mistakes do marketers make when it comes to team collaboration?

As we close out the year, now's the time to change these behaviors. What bad habits are you guilty of? How do you plan to approach them in 2021?
Data is great, but it should be part of a bigger picture. What if it's not possible to put data-based content into your strategy. What should you do?
A commitment to learning is a key habit of successful content marketers. Continue to educate yourself by enrolling in CMI University. Don't miss our special offer – Buy One, Get One Free: Purchase a seat for yourself, and give one to a colleague at no extra cost. Use code BOGO20 at checkout, but hurry, this offer ends December 4, 2020.
Posted December 2, 2020 in: Event by Monina Wagner
---
UP