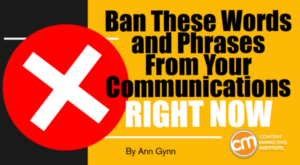 Ever play jargon bingo?
You mark off a square on your card every time you hear one of those words or phrases that sounds like fingernails on the chalkboard. Maybe it's a word so frequently used as to render it almost meaningless. Or perhaps it's an acronym that makes readers have to pause (or Google) to remember what it means.
The winner of jargon bingo crosses off all the squares in a row or diagonally first (yep, basic bingo rules).
But, in truth, nobody wins when jargon sneaks into content.
To help you avoid these content no-nos (or know you're not alone in your frustration), we asked the speakers at Content Marketing World 2022 to share their "favorite" (i.e., most hated) jargon.