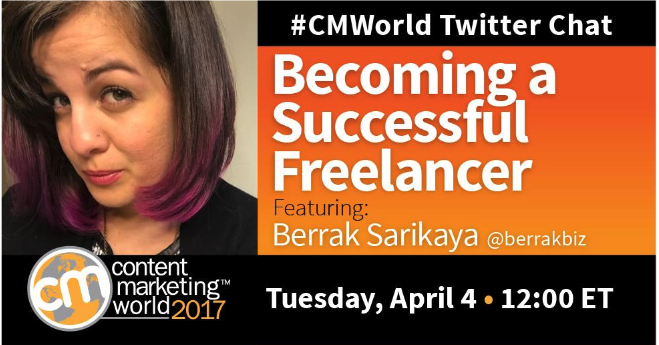 Becoming a freelancer can be freeing, but it can also be a little scary.  For some people, freelancing is a choice – a way of becoming their own bosses. For others, it is not a deliberate choice. They may have lost a job or need a side job to sustain cost of living.
So where does one start?
On a recent #CMWorld Twitter chat, we discussed what you should know if you're looking to freelance. Special guest Berrak Sarikaya shared her insights as a freelancer as well as tips on where to begin. What follows are some of the many highlights of the chat. Looking for more tips? Make sure to check out our Storify recap for more insights.
Build Your Network
A successful freelancing career is built on a solid foundation of contacts. Whether you are cultivating an existing network or making new connections, word-of-mouth referrals can generate new leads.
A good portfolio, along with positive testimonials, can help grow your business. And it's important to know other freelancers you can turn to for advice.
Protect Yourself
When an opportunity arises, you must be prepared. Set yourself up for freelance success with an internal infrastructure you can follow. Be clear on how you will handle future clients to keep out of financial, legal, and professional trouble.
Sarikaya has written about how she started her freelancing career. You can find that post here. She also referred participants to the Freelancers Union and to the many resources it offers. Do you have tips for those looking to go freelance? Let us know in the comments below.
Did you know we recognize content marketing's best at a special ceremony at Content Marketing World? Brands and freelancers alike are encouraged to enter the Content Marketing Awards. But hurry – the deadline for submission is April 21, 2017.
Posted April 6, 2017 in: Event by Monina Wagner
---