Content Marketing World is part of the Informa Connect Division of Informa PLC
This site is operated by a business or businesses owned by Informa PLC and all copyright resides with them. Informa PLC's registered office is 5 Howick Place, London SW1P 1WG. Registered in England and Wales. Number 3099067.
Becoming a Better Writer: A #CMWorld Chat with Ann Handley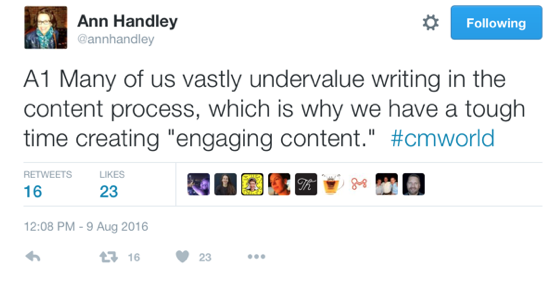 While writing is only one part of content marketing, it's an extremely important part — and one that is sometimes being considered secondary. In fact, our 2016 research found that becoming a better writer was not a top priority for marketers. We think it's essential marketers focus on the craft of writing and invited one of our favorite writers, Ann Handley, to join our recent #CMWorld Twitter chat to lead a lively conversation where tips and tricks were traded.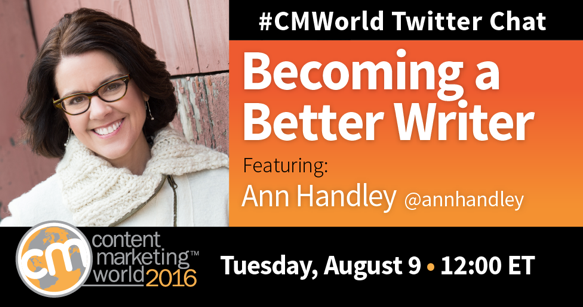 A few highlights of the chat are below. Visit this week's Storify for even more great conversations on this topic.
There was a large consensus on writing tips and best practices…but varying opinions on proper grammar:
When asked *who* they'd recommend for great writing inspiration, many suggested not specific authors – or books for that matter, and offered great out of the box suggestions.
As usual, this was a fantastic chat with our community, and as very usual, Ann Handley was amazing. Thanks to all who joined – we'll see you next week!
See Ann speak more about how to make your writing ludicrously spectacular during a breakout session, or catch her during her keynote on a look back on the best marketing of 2017 (so is that a look ahead?) at Content Marketing World this September. Use code BLOG100 when you register to save an extra $100.
Posted August 10, 2016 in: Event by Cathy McPhillips
---
UP