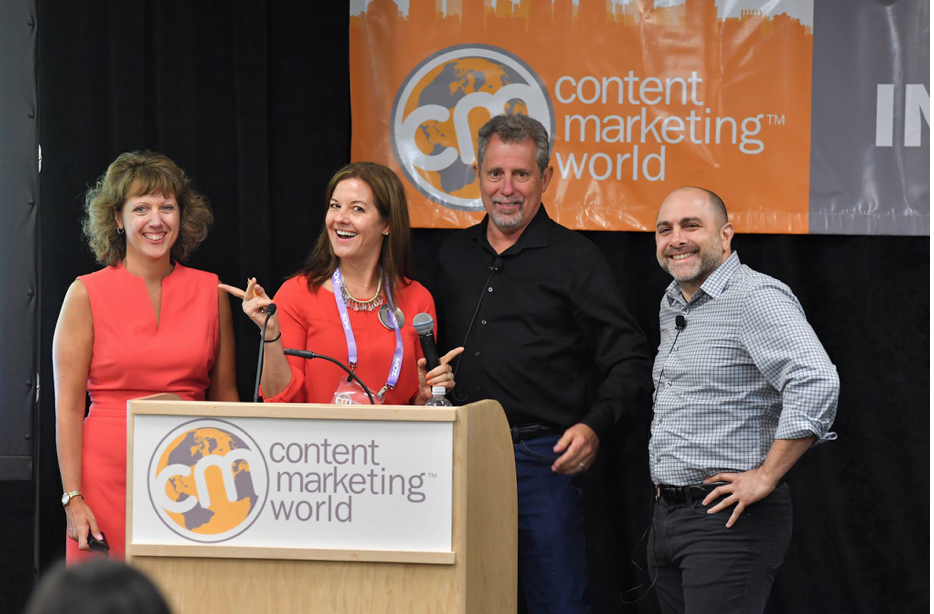 You've heard the old saying dress for success, right?
Many people believe that looking good means feeling good. And feeling good means you can get more done. And once you've seen Joe Pulizzi in his orange-clad suit – and who could forget the orange shoes? – you'll know exactly what it means.
Without a doubt, one should always dress for success.
But, with more than 120 sessions happening over just four days at Content Marketing World 2017, it's not possible for anyone – no matter how well they're dressed – to see everything.
Then again, maybe it is.
Did you know the CMWorld staff records every session, every presentation and every workshop? It's true, because they also understand that no one, regardless of how well they're dressed, can see all 120 sessions in four days. That's why they assemble every CMWorld session together in a video package called the all-access pass.
It's the only way humanly possible to see all of the great CMWorld 2017 sessions.
When you register for CMWorld 2017 you can purchase an all-access pass, giving you the ability to view every single main event session on-demand, anytime you want. You can also attend one workshop on Tuesday and one industry lab on Friday. It's by far the best value for the money.
But don't take my well-dressed word for it.
Ask Gerrit Klein, CEO of Ebner Publishing in Germany. His company sends four people from Ulm, Germany to Cleveland – some 4,230 miles – every year for Content Marketing World. But it's worth it, he says, to hear from the experts.
"Content Marketing World presents outstanding speakers and thought leaders," Klein said. "Their thoughts, ideas and recipes helped us tremendously in shaping our own strategy throughout the last years."
But, he goes on to say that, while the journey continues to be worth it, you simply can't catch it all in person.
"Content Marketing World offers a plethora of presentations. Even with four people present you have no chance to see it all. The all-access pass helps to access every session through the videos, which are published after the show. We are using this service to get it all," Klein says.
So, as you're getting ready to register for Content Marketing World 2017 and you're looking for that final great (orange) accessory that helps you feel the part, consider getting an all-access pass to complete the look.
After all, nothing looks as good as feeling good.
If you want to learn more about the critical topics all marketers need to know when adding content marketing to the mix, consider an all access pass and learn from all of the great speakers at Content Marketing World 2017. Oh, and Code BLOG100 saves $100! Register today!
Posted June 5, 2017 in: Event by Mike Myers
---