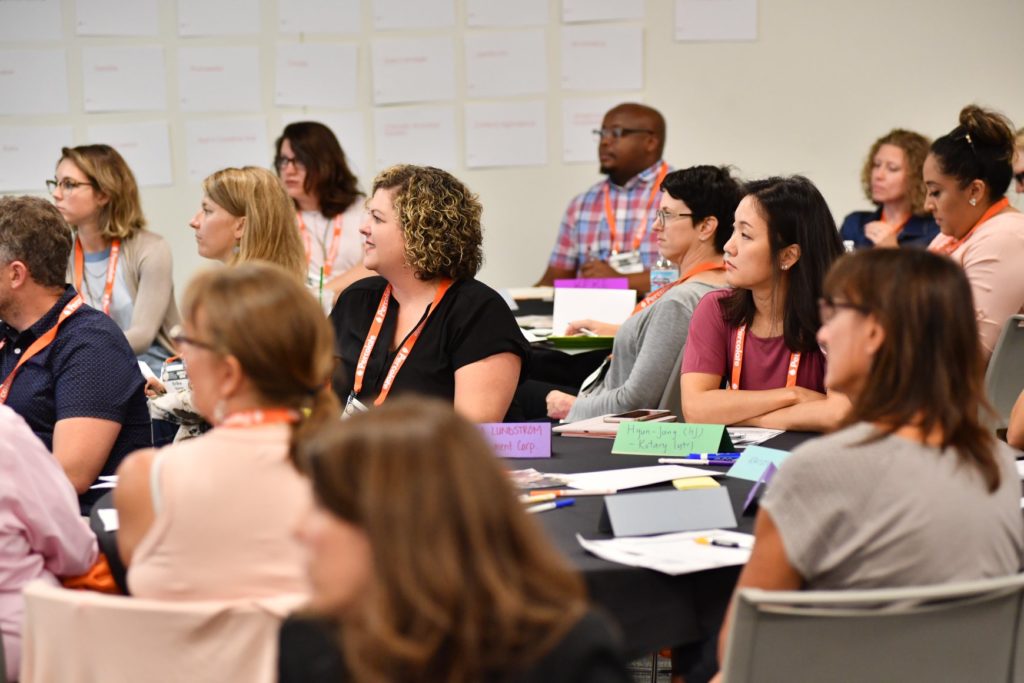 Words, words, words.
Admit it: when someone mentions content marketing, your mind immediately jumps to written content, doesn't it? (Also, if you're of a certain age group, it's OK to admit that you just sang the opening line of this blog to the tune of an old Mötley Crüe song. No judgment.)
There's a reason for that lightning-fast association: written content has long been the mainstay of this industry. Whether you deal in long-form whitepapers, teeny little tweets, or anything in between, most of the time you'll find yourself returning to copy when it comes time to fill your editorial calendar. And while that is a solid approach, there's no need to limit yourself to written content.
With all respect and love to the devoted copywriters of the world (trust me, we appreciate and need you), today's audiences and platforms not only respond well to a variety of content styles—they expect it. And while a few outliers show a strong preference for one type of content (we all have at least one friend who will consistently choose to read a transcript rather than watch the video, or who never reads an article but listens to every podcast), most people consume a variety of media.
Expanding your content repertoire
Written content is increasingly sharing the stage with audio, visual, and experiential marketing—so the options for getting your brand's message across are simultaneously more complicated and more exciting than ever before. It's increasingly important to be comfortable (or comfortable enough) working across content types so you can deliver cohesive messages that reach all the different segments of your audience.
If you're looking to round out your selection of blogs and whitepapers with additional mediums (additional media? That sounds weird. This is why writing is hard.)—or if you're looking for ways to stop making your audience read—Content Marketing World is offering multiple opportunities that can help you level up to a more multimedia experience. Be sure to make time for the following sessions while you're at the conference:
Tuesday
Video Marketing Makeover: Transforming Boring Case Studies and Testimonials Into Stories That Inspire Action
Time slot: 1:00 PM – 4:00 PM
By this point in your marketing career, video is likely not a novelty: you've seen them produced, maybe made a couple yourself, or even found yourself in front of the camera. However, do you feel like any of those videos really workedthe way they were supposed to? If your answer is no, don't worry—you're not alone. Andrew Davis, author of Brandscaping and Town INC, is running a workshop that will show you how to make over your marketing videos by adding one simple thing—drama—to keep your audiences riveted.
Wednesday
Defining the Relationship: How ERM is Changing the Brand-Customer LTR
Time slot: 11:20 AM – 12:05 PM
You've built your brand, earned your customers' loyalty, and faithfully gathered online data to guide your next steps—so you're doing everything you can, right? Well… maybe not.Jonathan Yaffe, CEO and Co-Founder of AnyRoad (and former event producer for Red Bull), reminds us that experiential marketing is a vital way to connect with customers—and maintains that brands who fail to collect offline data from those experiential moments are letting valuable insights walk out the door. Jonathan will discuss the power of experiential marketing, the importance of data in understanding human behavior and fostering brand loyalty, and how you can track the offline customer journey and receive real-time feedback on brand perception.
Five Very Different Examples of Stellar Visual Storytelling and Why They Are a Step Above the Marketplace
Time: 2:00pm – 2:45pm
If a picture is worth a thousand words, it's easy to understand why visual storytelling can command so much respect (when it's done well)—or can miss the mark (when it's done… well, you understand). Join Manifest's President, Eric Goodstadt, and Chief Creative Officer Sacha Reeb as they examine five instances of visual storytelling from across industry segments that truly stand out among the competition. The examples span the spectrum, from static imagery to multimedia experiences, and are case studies of how you can take content engagement to another level.
Thursday
Podcasts Are Content Machines: How to Start a Podcast from Scratch and Never Run Out of Content Ideas Again
Time slot: 12:20 PM – 1:05 PM
Ah, podcasting: a marketing activity that manages all at once to be ubiquitous, valuable, and fairly intimidating for beginners. If you find yourself saying, "I know I want to start podcasting for my brand, but… how?", this session is for you. Ryan Estes, Senior Content Marketing Specialist at Frontline Education, will share how to start a B2B podcast (including an overview of the strategy, skills, tools, and commitment required)—and address what to do when the interview is over (subtle hint: MINE IT FOR CONTENT). As an added bonus, Ryan will share how and where to find stories that will make your podcast stand out from the "2-guys-bantering-with-mics" format. Yes please!
Friday
Community Rx: The Proper Care and Feeding for a Highly Successful Online Community
Time slot: 9:00 AM – 9:45 AM
Friday—the last day of the week and (*sniff *) of CMWorld 2019—is the ideal time to think outside of the box when it comes to alternative ways to engage with your audience. Like how, you say? Like with online communities, I reply! Once you've launched your online community, it's important to care for it in thoughtful ways to ensure its longevity and success. Erika Heald(of Erika Heald Consulting) and Dennis Shiao(of Dennis Shiao Consulting) will share their expertise around nurturing online communities, including how to welcome new members into the fold, provide value to keep members engaged, and identify metrics that will help monitor engagement and head off any potential issues.
Join us in Cleveland
Let it never be said that Content Marketing World is only for writers—all ideas about and executions of content are welcome. Come join us and see what you can learn, as well as what you can teach other attendees about your areas of expertise.
Register for Content Marketing World today to secure your place in Cleveland. (Pro tip: use my discount code, JANN19, to get $100 off your registration fee.)
Don't wait for September to get familiar with other conference-goers! Join in the conversations now— follow #CMWorld on Twitter to chat with your fellow attendees before the show.
About Maureen Jann
Maureen Jann is a veteran B2B marketer whose career in digital media has grown up with the Internet. A self-described jill-of-all-trades, she enjoys the daily challenges of driving business results in unexpected ways. She is currently the Founder and Managing Director of SuperDeluxe Marketing, a marketing and content agency focused on B2B technology, marketing industry, learning and development as well as startups. Maureen has a Bachelor of Arts from San Jose State University and her side hustles have earned her an MBA from the School of Failed Startups. A frequent guest on podcasts and panels, she is passionate about unusual shoes, crafts, and delicious cocktails. In her carefully-guarded free time, Maureen loves exploring the beautiful Pacific Northwest with her daughter and husband.
Posted July 30, 2019 in: Event by Cathy McPhillips
---