May was a great month for the #CMWorld community. We had record-breaking registration numbers for the big event, Content Marketing World this September, we rocked some twitter chats with special guests Aaron Orendorff, Jeff Fagel, Mike Myers and Amanda Subler, and we published a SlideShare on Creativity & Content Marketing Inspiration, as we prep for our keynote at CMWorld.
What else? Oh yes, some great prizes were given away! Registrants all month had chances at some fun giveaways.
Week 1 – Let's Make a Deal!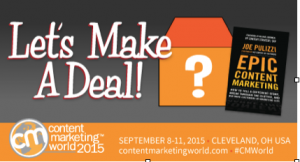 Our community had the choice of winning Joe Pulizzi's book, Epic Content Marketing, or peeking behind the orange curtain for the prize. Many played it safe and chose Epic Content Marketing, including our friends, Kristen Chalker, Erica Ballard and Ariane Hiltebrand. Our one adventurous winner, Kelly McGlumphy, chose the item behind the curtain and won a gift certificate to Urban Farmer, the restaurant in the Westin that many of us congregated at last year during the PNR: This Old Marketing podcast live recording!
Week 2 – Movie Titles
This was a fun one – changing the title of a popular movie to incorporate a content marketing term. Our idea? Joe Pulizzi's Day Off!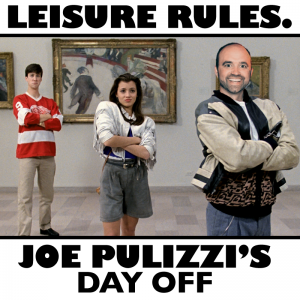 Big winners of Robert Rose and Carla Johnson's new book, Experiences: The 7th Era of Marketing, randomly selected from all submissions:
Mike Myers: Jurassic Content Marketing World
Erin Duff: When H1 Met SEO
Michelle De Hertogh: Content Marketing Crashers
Nick Ward: Charlotte's Webinar
Chris Martinez: The Winter of our Dis-Content Marketing
Congratulations, friends! We definitely had some laughs with your submissions.
Week 3 – Hollywood Squares
In Week 3, our community of CMWorld 2015 registrants had a choice of seven actions they could take – they could take one action, or all seven, or anything in between. These actions included leaving a blog post comment, subscribing to our email list, sending out a tweet, etc.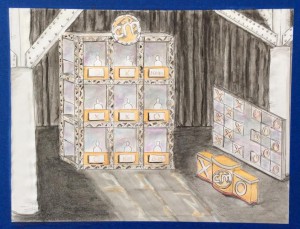 From all of the actions taken – and wow, thank you, there were many! – we selected two winners to be the contestants in our LIVE Hollywood Squares game at Content Marketing World 2015. These contestants will participate in a game with celebrity squares including Joe Pulizzi, Jay Baer, Carmen Hill, Gini Dietrich, Andrew Davis, Julie Fleischer and more.
Week 4 – Wheel of Fortune
Who doesn't love Wheel of Fortune and the great prizes that are available? This week we put together three Wheel of Fortune games for our Facebook and Twitter communities to solve.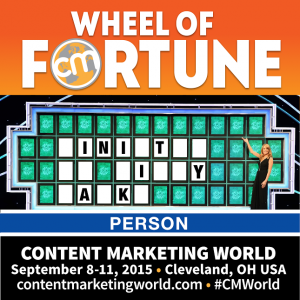 From all of the responses, we selected two registered attendees who received two seats each – for them and a friend – to sit in the front row for John Cleese's keynote at Content Marketing World 2015. These two lucky winners are Carmen Hill and Staffan Ragno.
What a great month it was for our Content Marketing World community. And we're not done with prizes yet! For anyone that registered between December 1, 2014 and May 31, 2015, one lucky registrant was selected randomly for a free 3-night hotel stay in Cleveland during Content Marketing World. This big winner (drumroll please…) is Katie Hurst, from Portland, Oregon. Katie, we'll email you with details on how to redeem your free hotel stay while you're in town!
For those of you that didn't win all May, watch between now and September for other chances to win. And don't forget for CMWorld 2016, the early bird gets the best chance at great prizes and giveaways, so register early!
Registration is open through September, so if you haven't yet, now is your chance. Don't forget: CMI100 saves $100 off of main event and all-access passes. Are you bringing a group? We can help too! Email us for groups of four or more so we can give you the best pricing for your team. See you in Cleveland!
Posted June 15, 2015 in: Event by Cathy McPhillips
---