In our industry, we are all figuring out ways to adjust our original day-to-day plans and discover new ways to reach our audiences. These adjustments have affected us all, even here in the halls of the Content Marketing Institute. Due to the pandemic, we had to originally postpone one of our main events, ContentTECH Summit (initially help in late April), to August. As we shifted schedules and started working the logistics, we had to make the decision to finally convert the conference to a fully virtual experience instead of an in-person event. With the restrictions for gatherings upheld by the California government and our interest in the health and safety of our community, it was a no-brainer.
The Shark's Not Working
I would like to share with you a few examples of pivoting that I find fascinating. One of the biggest, and closest to my geeky heart, is the story behind the filming of the movie "JAWS." Directed by Steven Spielberg, JAWS was a blockbuster hit in 1975. The initial photography went exceedingly over time and budget, and the film was almost shelved. Why? Because the animatronic shark (affectionately named "Bruce" after Spielberg's lawyer) kept breaking down. A long story short: "Bruce" was initially built on dry land and tested in a freshwater lake. When principal photography for the film started taking place in Martha's Vineyard, Massachusetts, the crew started running into massive problems: The hydraulic system to make the shark swim and move did work properly in the salty sea water (remember, they tested Bruce in fresh water), so the shark constantly broke down, causing production nightmares. The script initially called for the shark to be seen much more in the movie, but due to the mechanical issues, Spielberg pivoted and changed his script and photography to give us the looming presence of the shark underwater without actually showing the fish. "Bruce" got about 1/3 of the screen time he was supposed to get, but with Spielberg's pivot, the shark brought the terror ten-fold after it finally made an appearance almost two-thirds the way through the film.
The Happy Little Pivot
The next pivot is so incredibly interesting to me that it inspired this post. During my quarantine hours, I have used this time to catch up on some of the "The Joy of Painting with Bob Ross" episodes. For those who don't know of Bob Ross, he was the host of a syndicated PBS instructional-based television series dedicated to teaching viewers how to paint. "The Joy of Painting with Bob Ross" aired from 1983 to 1994. In each 30-minute episode, Bob instructed the viewer how to create beautiful landscape scenes using the "wet-on-wet" painting style (meaning the painter applied wet paint on top of wet paint, instead of waiting for each paint layer to dry). Bob's signature red afro-style haircut, beard and dulcet tones in his "happy little way of speaking" made him an immediately recognizable brand. Ross used his television series to teach viewers how to paint, but it was also a content vehicle for the products he sold under his company, Bob Ross Inc. Bob Ross Inc. sold paints, brushes, instructional videos and hosted instructional in-person classes taught by Ross or another Ross-certified instructor.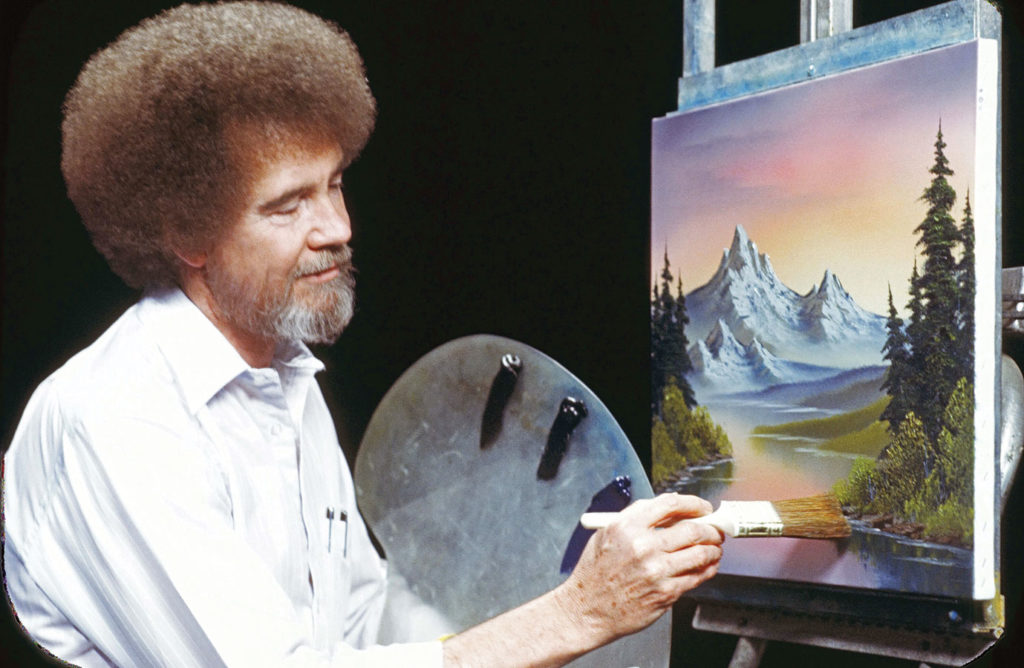 At one of his onsite painting demonstrations in a mall, a viewer approached Bob and stated, "I can never paint since I am colorblind." Bob's landscape paintings were vibrant, color-rich scenes, so the man was correct as it would be incredibly difficult for a viewer to understand Bob when he was talking about color, but it also meant the viewer couldn't paint along with the program.
So, Bob made a pivot for his colorblind viewers: In "The Joy of Painting" episode 4 of season 2, Ross started the program talking about his conversation with the colorblind gentleman. He then proceeded to create a beautiful mountain scene all in black, white and gray paints. He used no color at all.
It was incredible to watch this episode again, now with a pair of "marketing eyes." It was not only Bob's intent to show that anyone can paint and experience the happiness it brings; he ultimately used this episode to connect with and build a new and unique audience. By implementing a slight pivot in his color palette, Ross opened up to a whole new audience that thought that they were unable to paint, and likely didn't even tune into his program. What did that mean? Potential upticks in viewership, sales of products and even instruction. Isn't it something to think of the potential business Bob Ross Inc. could obtain by a simple change of colors?
To quote Joe Pulizzi, author and founder of Content Marketing Institute, "As a content creator, you generally have a firm idea of how you want to tell the story. At the same time, you must be open to audience feedback." That is what Ross did. He was open to feedback brought to him. He pivoted by changing his normal color palette. He garnered a new audience.
What's Your Palette Change? Listen to the Feedback.
So, what does that mean for content marketers? With our world seemingly changing on a daily basis, is there a way to shift our business plan to reach a potential new audience? Is there a pivot you can make to help our existing community and customers?
It all comes down to one thing: Listening to your audience's needs. If you successfully using content marketing, you have a pulse on your community and are tuned in to their needs. The needs of the audience are the foundation of every content strategy.
Looking back upon the creation of the Content Marketing Institute, Joe Pulizzi gives us a little insight on the importance of listening to your audience feedback: "The only reason Content Marketing Institute exists is because we listened to the needs of our audience. We initially had a very different plan for the content and product model. Thankfully, we received and listened to feedback. Pivoting to a new business model, based on this feedback, was the best decision we ever made."
A New Canvas, a New Opportunity
We at Content Marketing Institute have accepted the challenges brought on by the new COVID-19 world. Just like Bob Ross, we are starting with a brand new canvas and we have a world to paint (you know we'd use a ton of orange, right?). We know that in the foreseeable future, we have to create new experiences for our community not only in the traditional sense that is expected from us, but also in new and innovative ways. We recently hosted an online event, Demand Generation Summit, which was an overwhelming success. We are in the midst of creating an exciting and immersive experience for our virtual ContentTECH Summit in August.
We are also hard at work planning the physical event for our community members who will be able to join us in-person, onsite in this fall, but we are also diligently working with our staff and teams across our parent company, Informa, to create a unique and captivating virtual experience for our community who cannot physically join us in Cleveland. By creating this new "hybrid experience," we now have the potential to reach our community members who were never able attend in the past or were only able to utilize our video on-demand feature. Our goal is to create an immersive experience that makes the user feel as if they are there with us on site.
We are pivoting and changing up our palette to create a "happy little show." I think Bob would be happy with the world we created.
Posted May 26, 2020 in: Event by jkalinowski
---