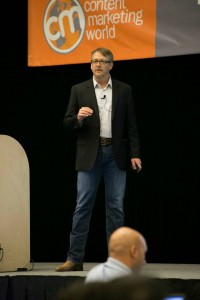 Every Thursday, a Scripted writer will recap a session from Content Marketing World 2014 that will be published here on the CMWorld blog. Find out more about Scripted by visiting their website.
When Brian Clark launched Copyblogger in 2006, Copyblogger wasn't a business; it was a blog searching for an audience. As readership grew, Clark learned about his audience and developed ideas of what to sell to them. In 2014, a company that started as a non-monetized blog posted sales exceeding $10 million.
In his Content Marketing World presentation, Clark noted that he was lucky to start in 2006 when people didn't hesitate to give out their email addresses. Now, people are more reluctant to share them because too many marketers have abused their trust, and emails have become something that prospects want to avoid instead of something they want to receive. Even so, despite all claims that email is dead, it's still the best lead nurturing tool a business has. To come up with great content that motivates prospects to opt in, teams require three distinct roles: writer, director and producer. When all three roles work together, content creation and business objectives integrate seamlessly.
Producer
The producer brings content marketing together by matching the media to the business objectives. Producers set goals for where the business is headed, and they communicate those goals to their directors. In the movie business, producers find investors, handle distribution, and figure out how to make movies profitable. In marketing teams, producers figure out how to create and distribute content that converts audience members into buyers.
In larger companies, marketing teams have writers and directors, but they often lack a producer. Clark suggests that enterprise teams should seek out producers within their own management team. If they can't find internal support, he suggests reaching out to outsiders, including consultants and agencies. Without a producer, Clark notes, content creation strays from its mission and doesn't lead to sales and conversions.
Director
In the film industry, directors execute the producer's vision and make movies happen. In content marketing, they set the editorial calendar, keep content production moving, and focus writers on creating content that meets business objectives. Jerod Morris, Copyblogger's Director of Content, divides the director's role into four main components:
Contextualize. A director gets the goals from the producer and knows what the business is trying to accomplish.
Communicate. After getting the production goals, the director communicates those goals to the content team.
Coordinate. To deliver content, directors coordinate between multiple players, including designers, developers, and writers. They also coordinate with other departments when content releases affect other parts of the company. For example, when Copyblogger released its Rainmaker content platform, Morris made sure the tech support team know the release date. The team needed to anticipate higher call volume related to the new product launch.
Count. Directors learn which metrics influence business objectives, and they monitor them to quantify the success of the content strategy. They communicate the results to the producer, and they focus writers on creating data-driven content.
Writer
In movie making, writers create the stories that get turned into films. In content marketing, they deliver a product to the director that meets the producer's business objectives. When Clark talks about writers, he's not just referring to actual wordsmiths. He's talking about all the talent that has a hand in content creation, including graphic designers and developers. Their ideas fuel the content machine that transforms audience members into buyers.
That's a Wrap
Clark started Copyblogger Media as the writer, director and producer himself. In hindsight, he recommends not doing it the way he did it. Instead, he suggests starting with at least one person in each role for more focused and efficient content creation. He's learned that effective content marketing requires all three functions to stay aligned with business goals.
B2B Small Business Content Marketing: 2015 Benchmarks, Budgets, and Trends – North America, sponsored by Rainmaker Platform by Copyblogger Media, shows how small-business marketers have changed their content marketing practices over the last year. This research is available for download.
Scripted provides high-quality, original content for a flat rate with a set turnaround time. Post guidelines for what you need, and five days later you'll receive professionally written and edited content.
Posted March 26, 2015 in: Event by Scripted Writers
---