Content Marketing World is part of the Informa Connect Division of Informa PLC
This site is operated by a business or businesses owned by Informa PLC and all copyright resides with them. Informa PLC's registered office is 5 Howick Place, London SW1P 1WG. Registered in England and Wales. Number 3099067.
Bringing AI into the Content Creation Process: A #CMWorld Twitter Chat with Jeff Coyle
The content creation process can be complicated. But technology is enabling content marketers to deliver on smarter strategies. What does that mean? To find out, we invited MarketMuse Co-Founder Jeff Coyle to join us on a recent Twitter Chat. Jeff is doing some cool work with AI to help marketers better understand what their content is missing and how to fill those gaps.
Below is a brief look at our discussion with Jeff and the CMWorld community.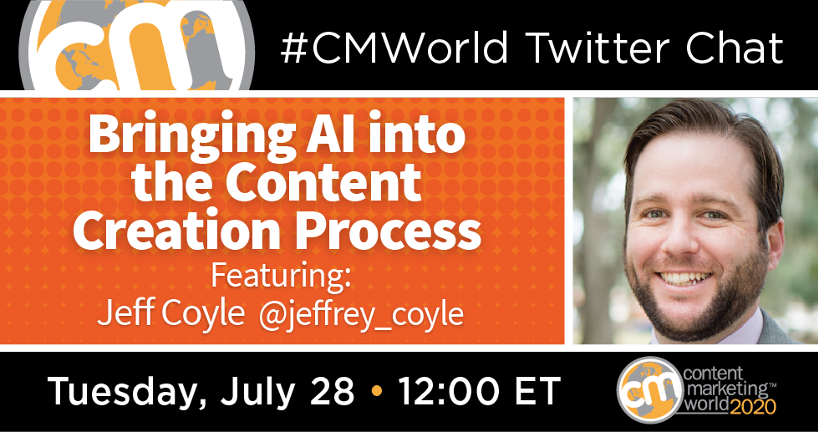 What kind of organizations are well positioned to leverage artificial intelligence?
Can AI help content teams find engagement or intent signals that human analysis might miss?
Some marketers shy away from AI. How do you get started? What questions should you ask to best move forward?
Jeff also spoke to our community about how AI can help us access the right data to build better report and how AI can assist with workflow challenges. Check out our Twitter Moment for all of the tweets from the chat.
Want to learn more about how AI can improve productivity throughout your content team? Attend his session ContentTECH Summit session. Discount code SM100 expires soon, so don't delay and register now!
Posted July 29, 2020 in: Event by Monina Wagner
---
UP