Content Marketing World is part of the Informa Connect Division of Informa PLC
This site is operated by a business or businesses owned by Informa PLC and all copyright resides with them. Informa PLC's registered office is 5 Howick Place, London SW1P 1WG. Registered in England and Wales. Number 3099067.
Building a Content Distribution Strategy: A #CMWorld Chat with James Tennant
As a marketer, you probably spend a good chunk of time cranking out content. So it's disappointing when your content doesn't get seen. And you guessed it. This is where I say you have to get the right content in front of the right people at the right time.
Great content goes unnoticed every day because it lacked a solid distribution strategy. What research is needed to build one? What questions need to be answered to execute? We looked to James Tennant for answers. As founder of Converge, he helps B2B businesses amplify their content. James finds the brands he works with don't have a problem with creation. The issue is with promotion.
What follows is a brief look at our discussion with the CMWorld community.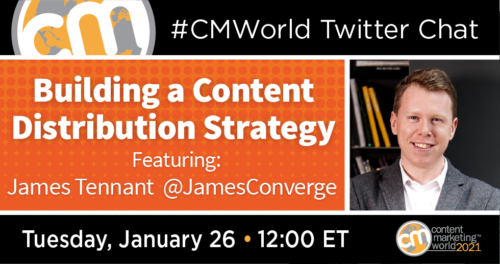 What comes first: Content or distribution strategy? Does that always remain the same?
Some channels are more appropriate for your content than others. What questions should you ask to determine which ones make the most sense for you?
Are you a proponent of distributing new content on each platform once it is released or do you have a staggered plan?
This is just a quick glimpse into our conversation. Our community also shared their thoughts on guest posting, influencer marketing, SEM and PPC, measurement, and tools. See all of the tweets from the chat here.
What distribution tactics have you found success with? Which ones were major duds? Let me know in the comments.
Want to learn more about James? Watch my interview with him on Beyond the Chat.

Find out which tactics marketers are adding to their content distribution mix when you attend Content Marketing World 2021. Lock in Super Early Bird pricing now!
Posted January 27, 2021 in: Event by Monina Wagner
---
UP