Content Marketing World is part of the Informa Connect Division of Informa PLC
This site is operated by a business or businesses owned by Informa PLC and all copyright resides with them. Informa PLC's registered office is 5 Howick Place, London SW1P 1WG. Registered in England and Wales. Number 3099067.
Building Your Brand with Serial Content: A #CMWorld Chat with Roger Parker
Do you have a big idea you want to present to your audience? Serial content may be for you. Roger
Parker, Founder of Published and Profitable,  joined our recent #CMWorld Twitter chat to walk us through the process based on his successful experience.
A few highlights of the chat are below. Visit this week's Storify for even more great conversations on this topic.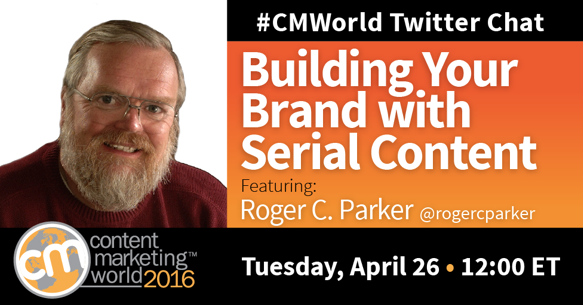 Roger and other participants shared numerous ways they like to repurpose serial content:
What are the benefits of serial content? Here are just a few thoughts with some common themes:
Learn more from Roger Parker by joining us at Content Marketing World from September 6 – 9 in Cleveland, Ohio. Roger will be moderating one of our tracks, and bringing his expertise and enthusiasm to the event. In the meantime, read more from Roger on the CMI blog. 
Content Marketing World registration is now open, with early bird rates ending on 5/31/16. In addition, use code BLOG100 to save $100 when you register today!
Posted April 27, 2016 in: Event by Cathy McPhillips
---
UP