Growing up, my parents worked odd shifts.  We lived on takeout, with few big meals ever made at home.  I had a favorite pizza shop back then.  Fast forward to today, and it's still my favorite. I've trusted this shop for years. They are my childhood. Now they are a part of my kids' lives. They support our local schools and cheer on the Cleveland Browns. I believe in their values and actions.
When a recent order of mine was messed up, I tweeted them. (Because all good community manager turn to social media, right?) Mistakes happen, but this one really upset me. Guess what they did. They made things right. They delivered on their promises. They kept my trust.
Good news, content marketers. Just like my favorite pizza shop, we're doing something right. CMI research found the vast majority of marketers say their audience views their organization as a credible and trusted resource. But if we're not working with tomatoes and pepperoni, how can we continue to successfully build credibility?
One person I trust to answer this question is Margaret Magnarelli. As Executive Director of Audience Acquisition and Growth Marketing at Morgan Stanley, Margaret knows a thing or two about creating content that can instill trust with our customers. Ahead of her Content Marketing World presentation, Margaret connected with us on the #CMWorld Twitter chat to share her thoughts.
What follows is a brief look at our discussion. Take a look at our Twitter Moment for more questions and answers from the chat.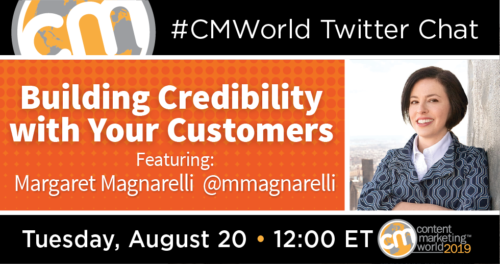 What does brand trust mean to you?
It's said trust is earned, not given. In what ways can brands build credibility? What kind of content can help instill trust?
Building trust isn't easy. What steps are you taking to gain – and keep – your customers' trust? Tell us in the comments below.
Margaret always provides valuable, tangible sessions at Content Marketing World. We know this year will no different. Don't miss her presentation to learn more about the power of trust. And no lie. If you sign up now with code SM100, you'll get a $100 discount!
Posted August 21, 2019 in: Event by Monina Wagner
---