Content Marketing World is part of the Informa Connect Division of Informa PLC
This site is operated by a business or businesses owned by Informa PLC and all copyright resides with them. Informa PLC's registered office is 5 Howick Place, London SW1P 1WG. Registered in England and Wales. Number 3099067.
Building Trust with Content Marketing: A #CMWorld Twitter Chat with Jacquie Chakirelis
In this era of fake news, there's a crisis in consumer trust. It's not a quick process to build, but it is easy to lose it. Trust is the foundation of any relationship. So how do we earn credibility in an environment of disbelief? We invited Content Marketing World speaker Jacquie Chakirelis to find out. What follows is a brief look into our conversation with Jacquie and the #CMWorld Twitter chat community. Check out our Twitter Moments (Part 1and Part 2) for every tweet from the Q&A.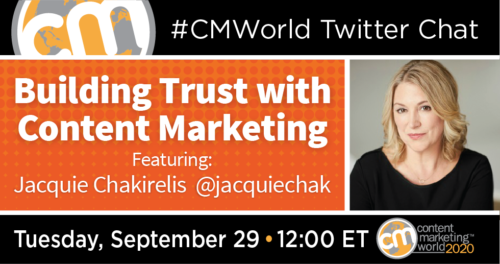 Trust is our goal as content marketers. How does it fit into our content marketing strategy?
It is said trust is earned, not given. What kind of content can help instill trust?
How can executives start then lead a content culture that fosters trust?
When brands gain customer trust, the benefits are huge. What are you doing to build trust? Tell us in the comments below.
Trust us when we say you should attend this year's Content Marketing World. The conference kicks off in two weeks. Hurry and register today! Use discount code SM100 to save $100.
Posted September 30, 2020 in: Event by Monina Wagner
---
UP