It's all about relationships and connections. Did you think we were talking about content marketing? Well, yes, that's true too. But right now, we're talking about agency and client partnerships. There are so many things at play here – personalities, capabilities and talents, knowledge and human resources gaps at brands, pricing, and more.
Today on the #CMWorld Twitter chat we spoke with Jeremy Bednarski, a good friend of CMI, longtime #CMWorld Twitter chat participant, and someone who has worked for brands and agencies alike over the years. Seeing the partnership of brands and agencies from both sides, we're glad Jeremy joined us for what was a fast-paced hour, with quite a few differing opinions, all of which made a whole lot of sense for each situation. We appreciate learning each week from our amazing CMWorld community!
Read some of the highlights below, and also dive into our Twitter moment.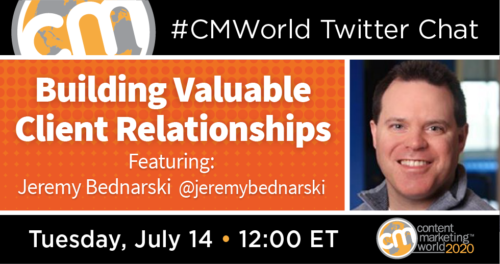 As an agency-client relationship is established and the work begins, how do you define the roles you and clients should have? Who else needs to be involved?
Do you use processes that exist within the agency, or processes that the client uses? Who makes that decision? And what tools should agencies look into?
That's it for today! Dive in to the #CMWorld Twitter feed each and every day for even more smarts from our Content Marketing World community. We're grateful for you all, and for the especially large number of contributions during this Twitter chat. What do you have to add? Leave a note in the comments.
CMWorld is happening in October, but first, ContentTECH Summit!  If you work at the convergence of content, strategy and technology, this event is for you. Sign up now with code SM100 to save $100 on your registration.
Posted July 15, 2020 in: Event by Cathy McPhillips
---