Fresh out college, I was invincible. I attended a good liberal arts school. (You may have heard of them; they were the Cinderella of the 2018 Final Four.) I interned in two top-10 television markets. I was engaged. Degree in hand, nothing could drag me down.
Until it did.
College commencements are around the corner. That means new graduates making the transition from student to employee. So, what should we as seasoned marketers tell those fresh out of school?
Career advice can come from anywhere: Family, friends, colleagues, bosses, and the CMWorld community. Ask Taylor Barbieri. As a young professional, she has already made a name for herself as Creative Content Marketer at Podia. Taylor credits her success to hard work and the guidance of others.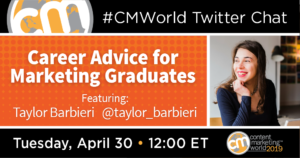 Remember that moment when I felt discouraged? I was told a piece of advice that will always stay with me. A coworker pulled me aside and told me to always say "yes." Say "yes" when asked to take on new responsibilities. Say "yes" to learning a new skill.  Say "yes" to something scary.
I hope you'll say "yes" to reading the rest of this blog post. In it you will find highlights of our #CMWorld Twitter chat with Taylor. Then let us know in the comments what you would tell new marketing grads.
How can recent grads apply what they've learned in school to market their professional development?
It can be difficult to find a job you love. To set yourself up for success, what should you look for in a content marketing position?
What advice do you wish you received when you first started in content marketing?
The learning doesn't stop the moment you earn a degree. If you're serious about taking your work to the next level, attend Content Marketing World. Early Bird pricing expires May 31, 2019, so register today.
Posted May 6, 2019 in: Event by Monina Wagner
---