After a day filled with sessions, networking and simply lots of content marketing goodness, your head may spin. But once you've fed your mind at Content Marketing World, you'll want to feed your belly. Yes, there will be plenty of opportunities for free food, but visiting local restaurants is a great way to experience Cleveland.
In case you hadn't heard, Cleveland is a hot spot for dining. Everyone from Travel & Leisure to Fodor's has recognized Cleveland for its culinary growth. The area's food scene has evolved into a foodie paradise.
Now, I'm far from an expert. But I enjoy a good meal, and I appreciate a terrific atmosphere. So I've pulled together a list of a few of my favorites local eats. All of these restaurants are within two miles of the Cleveland Convention Center and offer a wide range of choices.
Unpretentious eats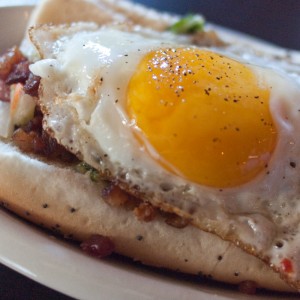 Happy Dog (5801 Detroit Avenue, Cleveland)
Here, an old fashioned neighborhood bar collides with a crazy gourmet hot dog joint. Food Network's Alton Brown tried one with Fruit Loops. My daughter loves hers with SpaghettiOs. I suggest the "1:45 AM Special" enjoyed with a side of tots and chipotle ketchup. (photo credit: Edsel Little http://j.mp/1TVvpzA)
Fresh take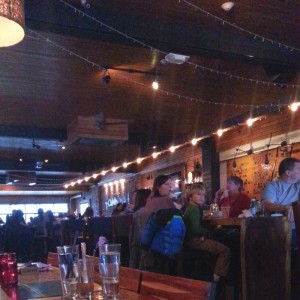 TownHall (1909 West 25th Street, Cleveland)
An urban café just minutes from downtown, TownHall provides visitors with healthier menu offerings. The restaurant uses only 100-percent non-GMO ingredients and also offers a fresh juice bar. Vegetarian or vegan? TownHall has fantastic options. Order the Bangkok Bazaar bowl for a delicious, fiery gluten-free meal. (photo credit: Tim Evanson http://j.mp/1dpl5yg)
Satisfy your inner foodie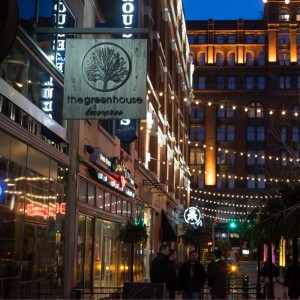 The Greenhouse Tavern (2038 East 4th Street, Cleveland)
This is my favorite restaurant in the city, hands down. And it's not just because Chef Jonathon Sawyer is the latest James Beard Best Chef – Great Lakes winner. His commitment to the farm-to-table movement is reflected in his menu, and the restaurant's rooftop and patio are terrific for people watching. Try the Crispy Chicken Wings Confit and my fave dessert of all time, the Buttered Popcorn Pot de Crème. (photo credit: Edsel Little http://j.mp/1RHtjj0)
True flavor of the city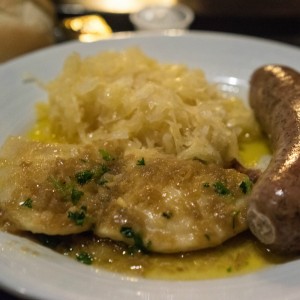 Sokolowski's University Inn (1201 University Road, Cleveland)
Talk about authentic Cleveland fare. Sokolowski's is one of the city's longest-running restaurants. It serves a smorgasbord of ethnic specialties like cabbage and noodles and pierogies. This Tremont neighborhood staple never wavers from its Cleveland roots. (photo credit: Edsel Little http://j.mp/1fWBTP9)
A lot is brewing in CLE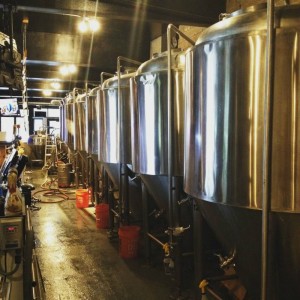 Long day? Grab a beer. You've earned it. I admittedly have much to learn about craft beers, so I asked my dear friend Renee, and Platform Beer Company is her top pick. Want to stay closer to downtown? Grab a stein, buy a brat and listen to polka at Hofbrauhaus Cleveland. (photo credit: Platform Beer Co. http://j.mp/1NohD3p)
Step out of the restaurant
Dining rooms not your thing? You can still get a good taste of the city.
Food, music and culture: Festivals are a fantastic way to explore the area. These are a bit further from downtown but are worth the drive. Arriving before Content Marketing World? Check out what's brewing at Oktoberfest. Staying a few days after the event, get full, bold flavors at the Cleveland Garlic Festival.
Enjoy America's pastime with an Indians game at Progressive Field. Friday, September 11, is Dollar Dog Night and you'll be treated to a fireworks show after the ninth inning.
With explosive growth downtown and eclectic neighborhoods, it makes sense Cleveland would be exploding with amazing culinary experiences. From an award-winning feast to a local watering hole, Cleveland has it. When you visit for #CMWorld, you are sure to find a multitude of places to get something to eat.
Need reservations? Be sure to visit OpenTable for a list of available tables. Also, check out the neighborhoods in and around downtown include Ohio City, Tremont, East 4th Street and Playhouse Square. Each website has a for complete list of local restaurants.
There are so many delicious places around town. Have a favorite Cleveland restaurant I didn't mention? Let me know in the comments. Not yet registered for Content Marketing World? Take a bite out of your registration fee and save $100 with code CMWSOCIAL.
Posted July 3, 2015 in: Event by Monina Wagner
---