Content Marketing Institute history was made last month when we hit our 300th #CMWorld Twitter chat.
CMI Vice President of Marketing Cathy McPhillips started the chats as a way of introducing our community to conference speakers. That was July 2013. We've hosted one nearly every week since then.
The CMWorld community is filled with smart marketers who are generous with their knowledge and time. Because of them, we have been able to cover topics ranging from content creation to social media to career development. We wanted to commemorate this milestone with a look at our content journey – where we started and what's to come.
Turn up the music, grab a drink, and put on your dancing shoes. Let's party.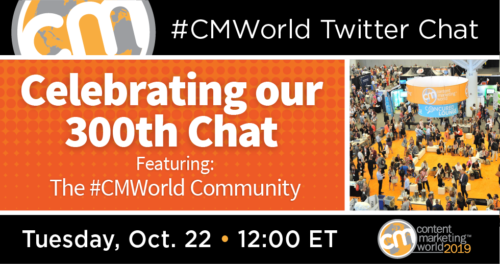 All celebrations need cake and a few gifts. CMI General Manager Stephanie Stahl made sure I was on a sugar high for the hour. I made sure we had presents to give out.
Content marketing has evolved since our first Twitter chat. What are the biggest changes you have seen since then?
You're given five minutes back in your workday that you want to use productively. What do you do with those 300 seconds that will make an immediate impact to your business or marketing efforts?
Your manager comes over to your desk and offers $300 for you to put toward a marketing event, technology, or continuing education. Where do you think you'd use those funds today?
What do you envision for the future of content, and how do we use the next 300 chats to prepare?
We may not always have goodies, but every Tuesday is a party at CMWorld. We hope you'll join us on a future chat. And if you have a suggestion for our next 300 chats, leave us a comment below.
On the day we celebrated our 300th chat, we released our  2020 B2B content marketing research report. Every year, we conduct surveys that reveal insights about changing practices, challenges, and success factors. You can find our most recent reports on the CMI website.
Posted October 23, 2019 in: Event by Monina Wagner
---