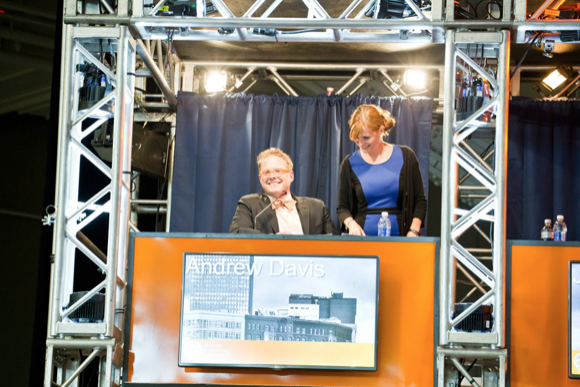 One of the highlights for many of us was our Hollywood Squares live game show at CMWorld 2015. Well guess what? It's back! We're thrilled to bring you two games this year, one Wednesday, September 7, and one Thursday, September 8. We wrote about Wednesday's game show last week. and on Thursday, our squares will be filled with nine of our Content Marketing University instructors.
Last year's game was a blast, so we're bringing it back!
Take a look and read these incredible bios of our CMI University instructors – and what they're doing when they're not instructing our CMI U students. I've also included a little bit about what their lessons include for CMI University, but note that all of these celebs will also be at Content Marketing World! So look them up on your agenda.
OUR THURSDAY CELEBRITY SQUARES
Robert Rose
When he's not jet setting all over the world consulting as CMI's Chief Strategy Advisor, Robert is writing books (he's the co-author of Experiences: The 7th Era Of Marketing), creating podcasts (he co-hosts PNR: This Old Marketing with Joe Pulizzi), and writes our weekly email series for our Content Strategy for Marketers newsletter. For CMI University, Robert created and produced the core curriculum based on his successful Content Marketing Master Class series. Robert's core curriculum is the basis for CMI University, and the other instructors take a deeper dive into their areas of expertise.
Ardath Albee
Ardath is the author of Digital Relevance: Developing Marketing Content and was voted one of the 50 Most Influential People in Sales and Lead Management for the past four years. No surprise there! Ardath is also the B2B Marketing Strategist and CEO of Marketing Interactions, Inc. For CMI University, Ardath is the expert in all things relating to personas.
Andrew Davis
The high-energy and brilliant Andrew Davis is the founder of Monumental Shift. He's also a speaker and bestselling author of Brandscaping, and his latest book, Town, Inc. "unpacks the deceivingly simple link between building a booming business and growing a prosperous town." Andrew is also a CMI University instructor for three courses, and is our only returning Hollywood Squares celebrity!
Carla Johnson
Carla is the co-author of the book Experiences: The 7th Era of Marketing, and the founder of Type A Communications. She's also on the executive board of the BMA, and has numerous instructor roles, including our own CMI University, focusing on storytelling and leadership.
Doug Kessler
The co-founder and creative director of Velocity, Doug brings to us some of the most compelling, creative content marketing in the world. His ability to keep our industry on course by holding brands and agencies accountable and not accepting mediocre marketing is fantastic, and because he's such a great guy, you end up thanking him for his candor. His CMI University lesson on social media is one of my favorites.
Arnie Kuenn
Arnie, the CEO of Vertical Measures, runs the show at his search, social & content marketing agency. He a frequent speaker, and we're lucky that he has spoken at so many Content Marketing World events year after year! Arnie is also the co-author of Content Marketing Works. And did you know Arnie is a native Clevelander? For that we love him even more. For CMI University, Arnie helps us dig into keyword research for content marketing.
Jason Stewart
Jason Stewart is the Vice President of Strategic Content at ANNUITAS, with more than 13 years of demand gen experience. With an affinity for alternative music and a great personality, we're excited that Jason, a Content Marketing University instructor focusing on account-based marketing is with us as a celebrity square!
Todd Wheatland
One of our favorites, Todd is the author of The Marketer's Guide to SlideShare, and is the head of strategy at King Content, the 2015 Content Marketing Awards agency of the year. Todd has shared his content marketing brilliance all over the globe – from the US to Paris to Sydney, and all of his travels in between.
Michael Weiss
Michael is  the Vice President of Marketing at Creative Circle, and an adjunct professor at Loyola Marymount University. He also is a talented musician and author, with a really interesting professional past – and present! Michael also was part of the CMI consulting team. Currently Michael runs presentation skills workshops for agencies and companies.
So, as with our other list, we've got a talented group of folks ready to be our celebrity squares!
Be sure to connect with our squares before CMWorld! We look forward to seeing you at CMWorld and enjoying this fun and educational break in our days!
Haven't registered? There's still time! Visit our website and use code BLOG100 to save $100!
Posted August 29, 2016 in: Event by Cathy McPhillips
---