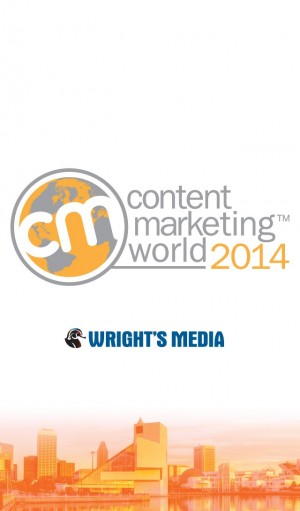 5 reasons to download the Content Marketing World conference app
This post is written by the team at Cvent, the team powering the Content Marketing World mobile app.
We are just days away from taking part in the largest content marketing event on the planet. Industry kingpins will descend upon the city of Cleveland to discuss content from every angle—from the art of storytelling to the science of ROI. There will be workshops, breakout sessions, networking opportunities, and of course, quality content that's guaranteed to inspire your own content strategy. To make the most out of this event, you need to approach it with a complete 365 view of everything that's going on and all the information you need to take advantage of it.
Sounds like you'll need binder packed with schedules, maps, and agendas, right? Wrong. Before you head to C-Town, download the Content Marketing World conference app, developed by CrowdCompass by Cvent, for your iOS or Android device and access everything you need right from the palm of your hand. Don't have an iPhone or Android Device? Don't worry. The link will you direct you to the CrowdCompass online event guide, where you can either download the app to your mobile device or view the information on your desktop, laptop, BlackBerry or Windows Phone.
Here are five reasons why you should check it out:
Kevin Spacey and Twitter – Oscar-award winning actor and producer Kevin Spacey will deliver one of the keynote speeches at the event. Needless to say, there will be many tweet-worthy moments and pictures in his presentation to post about—#CMWorld, #Content, #HouseofContent—you get the idea. You can log onto your social media accounts right in the conference mobile app and easily follow popular hashtags and tweet any of the cool content nuggets you're bound to hear over this three-day event. To follow the conference Twitter and Instagram feeds exclusively, just click on the Event Compass and see up-to-the-minute aggregated content. You'll also find relevant session content, bookmarks and session reminders. 
Your Schedule – This is an event for content marketers, so it's going to have no shortage of high-quality content. That's why having a schedule builder right on your phone is important. It will help ensure you participate in all the sessions you want to attend. In the app you can search by session track, topic, speaker, and day. Flag sessions you're interested in, add them to your schedule, and even set alerts to remind you when they're occurring. 
Meeting New People, Partners, Presenters and Prospects – Networking and making new connections shouldn't be left up to chance. The days of unused business cards and forgotten names are over. Use the app to view attendee lists, connect on LinkedIn, exchange contact information and even send messages during the conference.
Pub Crawls, Receptions, Urban Exploring – Content Marketing World isn't all work and no play. There are plenty of sponsor events going on at various places throughout the city, including the Ohio City Pub Crawl, ContentFest at Jacobs Pavilion and the ContentFest Afterparty at Shooters on the Water—not to mention the city-wide attractions Cleveland has to offer. Event attendees get special discounts at the Rock and Roll Hall of Fame and Museum, Cedar Point Amusement Park and Cleveland Indians games. Maps and information with times and locations can all be found in the mobile app.
A Breakthrough Moment – Every content marketer can appreciate a breakthrough moment. It's that moment where you stop talking at your customers and start connecting with them about your brand and the benefits they'll gain from it. It's when you become, "what customers love, rather than interrupting what they love." Sound like an important presentation to you? Download the conference app, find the presentation titled "Breakthrough Moments in Content Marketing" on Tuesday, September 9th from 2:30-3:15 p.m., and add it in your schedule. It's a panel discussion with Eric Eden, vice president of marketing at Cvent (CrowdCompass by Cvent's parent company!), and brand marketers from MasterCard, Western Digital, New Balance, and Skyword.
Now that you know to download the Content Marketing World conference app, developed by CrowdCompass by Cvent, and the many different ways you can use it, we'll see you in Cleveland! For more information about CrowdCompass by Cvent, sign up for a demo here.
Posted September 5, 2014 in: Event by Cathy McPhillips
---