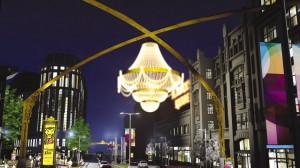 Coming to Cleveland for Content Marketing World?  If so, make sure you make a pass through the Playhouse Square theater district.
The famed GE chandelier in the theater district is now home to the first and largest outdoor chandelier, "bringing the historic beauty of our theaters outdoors for all to enjoy." The new chandelier, which stands 20 feet tall on the intersection of East 14th Street and Euclid Avenue, now features over 4,200 crystals, adding the bling and pizzazz one would expect from a theater district. If you're in town on May 2, you won't want to miss the "Dazzle the District" lighting ceremony starting at 5:00 pm at Playhouse Square. In fact, Playhouse Square will become one big, wonderful party with many of its restaurants offering packages and specials (but do make reservations).
A little backstory for you: many of Cleveland's wonderful theaters were slated for demolition in the early 70s as they had fallen into states of disrepair. However, community groups rallied and were able to save the theaters and raise funds to have them restored.  Now, with 11 theaters, Cleveland's theater district is second only to New York City's famed Lincoln Center. The lighting of the chandelier will signal a completion to the end to a $16 million revitalization project. The above video shows the thought and work put into this incredible chandelier project.
GE Lighting will be part of Content Marketing World as well!  Dan Stradtman, Global Marketing Research & Analytics Leader at the Cleveland-based company, will be speaking at our September event.
Tweet us if you'll be there Friday for the lighting ceremony, as CMI's Marketing Director, Cathy McPhillips, will be in attendance. Also, be sure to add Playhouse Square's outdoor chandelier to your list of things to see this September at CMWorld!
Chandelier image courtesy of www.cleveland.com
Posted April 30, 2014 in: Event by deborahng
---