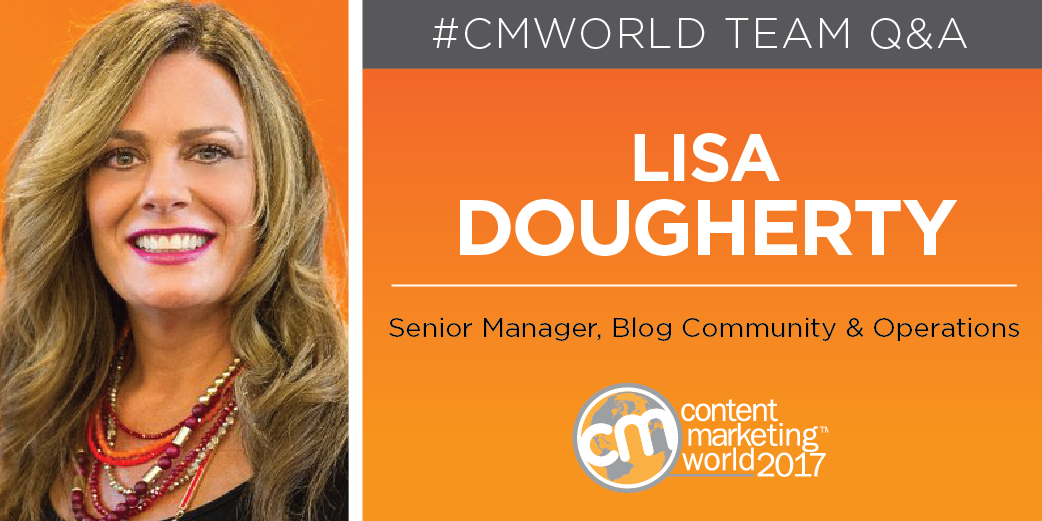 Do you have that one colleague who has boundless energy, one that has a laugh that can change the vibe of every room she enters? Lisa Dougherty – "Lisa D" to the team at CMI – is just that person. Lisa joined CMI a couple years ago (read more below) and has been a force of editorial goodness ever since. We hope you enjoy learning more about Lisa!
Explain your role at CMI. What kinds of things do you do on a day-to-day basis? 
I am the person behind the email "Dear blog, I'd like to contribute …", which means I lead the editorial process end-to-end for our award-winning blog. I work with content contributors both inside and outside of CMI and manage the editorial calendar. I am passionate about providing the best possible experience for our writers as they are key to making CMI a success. (Shameless blog plug) Wanna write for us? Check out our blog guidelines. J
What makes you the most excited about work each day?
My people-meter tends to run high, so getting to work with over 300 blog contributors, who are leaders in the industry, really feeds the meter. I learn from them every. single. day. I am also a bit Type A, so managing a process really lets me get my control freak on. Last, but certainly not least, I get to work with the most talented team on the planet (in my yoga pants and messy hair) so that certainly doesn't suck.
What is your background, and how did it lead you into content marketing? 
I have over 20 years of marketing experience that is derived from a six-year gig at a healthcare company and nine years at a technology company, where I was fortunate enough to work with Michele Linn. I was laid off from the tech company back in 2007 when I was pregnant with my son, so I decided to take some time to be with him and then my daughter, who was born in 2009. Because I can't sit still for too long, I started a freelance marketing business called BrandLove that specializes in personal brand development for executives and entrepreneurs, and virtual marketing services for B2Bs and B2Cs.
Michele Linn reached out to me one day asking if I was interested in contracting with a "really great company". Four weeks later, I was completely sucked in by CMI and wearing a ton of orange.
What kind of people do you want to connect with more?
I love to meet the people who I communicate with through email and social media all the time. Catching up with our blog contributors in real life where we can grab a coffee and swap ideas is so great. I also love seeing the team again. While I love working remotely, we are stronger together.
If you had a personal mission statement, what would it be? 
I think my personal mission statement is best summed up in a quote by Dave Brown, "Life changes the minute you start doing what you love. And, guess what, it's never too late to get started."
Besides content marketing, what other niche could you write about?  
I could definitely write about alcohol. After college, I was a "promo girl" in addition to my regular job. I went from clubs to restaurants educating people on the latest and greatest spirits, giving away free drinks, and trinkets and trash. I had a lot of friends.
On a serious note, I love to write about personal branding and helping people show their best self online.
What's the last good book you've read? 
I read a lot of educational content during the day, so by the time I get to bed at night, I am looking for a "guilty pleasure". Right now, I'm reading a novel by a dear friend of mine that comes from a long career in advertising. She is a first-time published author. The book is called The Square Donut by Lauren Crane. It is making me laugh out loud. A perfect way to end the day.
What's something you'll always find in your refrigerator or pantry? 
A holy mess. My seven and nine-year-old kids are constantly riffling through the refrigerator and pantry and don't seem to put anything back in its place. I also find empty wrappers and sometimes half-eaten food. I am constantly cleaning it out.
What's something else you'd like our community to know about you? 
I've had eight concussions from the combination of freak accidents and playing sports. None of the concussions are related to the above-mentioned promo gig. I will also trade social media and blogging tips for warm, pecan bread pudding.
It's fun to learn more about you, Lisa! Can't wait to see you at CMWorld in a few weeks, and we can't wait to see what new orange attire you'll be sporting in the convention center!
If you'd like to join Lisa and the rest of the CMI team at Content Marketing World, there's still time! Register today and use code BLOG100 to save $100 off all-access and main event passes!
Posted August 18, 2017 in: Event by Cathy McPhillips
---