Nothing is more useful for event attendees than having an event app at your fingertips, with schedules, social opportunities, speaker information, maps and much more easily accessible. We wanted to share some step-by-step instructions, suggestions and screenshots for you. Please let us know if you have any questions!
1. Download the app today! You can find the Content Marketing World – CMWorld Event App in both iTunes and Google Play.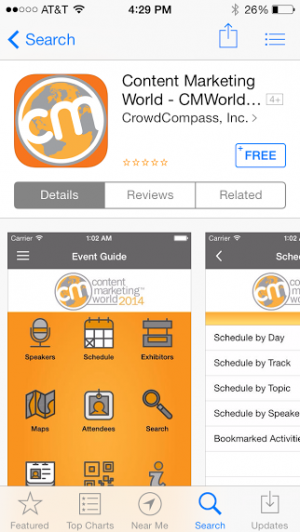 2. After download, Click on "Content Marketing World 2014"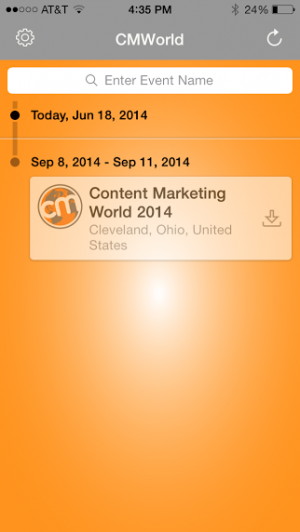 3. You will be taken to the Event Guide with the following sections:
Speakers: Learn more about the presenters at this year's event by selecting the person's name within the list. You can tap on the speaker's name to see his/her bio, organization, title and any sessions at which they will be featured. Bookmark speakers of interest.
Schedule: See the full event schedule with activity times, room numbers, speaker details and descriptions. Click the "Add to Schedule" button to automatically be checked off and housed within your personalized agenda. Schedules can be shown by day, track, topic or speaker.
Exhibitors: Discover the organizations that made this such a great event! Click the exhibitor and sponsor name to see a description and find their contact details. Find sponsors by name or category.
Maps: Navigate the event through the floor plans and learn more about the area within the area maps. (These aren't up until room assignment are complete, but this is where you'd find them!)
Attendees: Connect with your fellow attendees by exchanging your "digital business cards." Any new contacts made will be housed within the "My Contacts" section of the app. Create your own profile while you are here!
Search: Quickly locate any specific sessions, sponsors, descriptions or speakers. Tap on the open text box at the top of the page to enter in a keyword, and select the detail description to learn more about a particular section.
About: Learn more about the event and how to use the app features.
QR Scanner: Utilize the QR reader within the app to scan any codes throughout the event and exhibit floor and download the matching data.
Event Info: Find information on hotel and transportation needs.
4. Side Bar: At any point, click on the bullet-pointed three lines in the top left corner to see the side bar options which take you to your personalized sections of the app: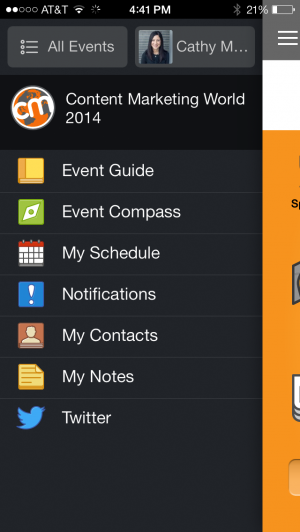 Account/Profile: Create your account, update your profile, or log out of the event app. Are you already registered? Log in via a social network that you included on your CMWorld registration, and your information should auto-populate. Feel free to manually update it once the screen shows your profile information.
Event Guide: Go back to the home page with speakers, schedule, etc.
Event Compass: See what's happening in the next hour (this will populate as we get closer to the event)
My Schedule: See your personalized schedule after you bookmark sessions and speakers.
Notifications: Tap here to receive news and information updates from CMWorld. Tip: Allow push notifications, as this will help our event team get in touch with you during the event for any important news or reminders.
My Contacts: View the contacts you have made during the event.
My Notes: View any notes you have taken throughout the event.
Twitter: See who is tweeting about the event and share your own experiences. You can compose tweets from the sessions, organizations, and speaker pages. Be patient: the tweets can sometimes take a few minutes to appear within the app, especially with 2,500 marketers in a room!
What next?
Have fun in the app, get to know other attendees, plan out your Content Marketing World agenda. Let the CMI team know if you have any questions. We look forward to connecting with you on the app!
Need assistance with the app?
The CrowdCompass Support Team is available Monday-Friday, 24 hours a day, and Sat/Sun (9am-9pm EST) at 888-889-3069, option 1, or via email at support@crowdcompass.com.
Posted June 26, 2014 in: Event by Cathy McPhillips
---