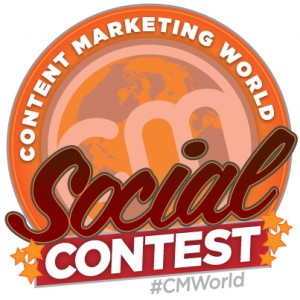 We're back for the 4th annual Content Marketing World! The largest content marketing event in the world, and by far the largest collection of the best and brightest minds in the business, will be back in Cleveland, September 8-11, 2014. We want you here, and have some ways to make that happen!
We'd love to have you involved next week as we give away some fantastic prizes and spread the word about our big event in under 75 days!
Two minutes on Content Marketing World
Everything you needed to know about Content Marketing World 2014 in just over two minutes:
Who Will Be There?
2,500+ attendees. 100+ speakers. An amazing closing keynote you won't want to miss. Some of the biggest brands and best content marketing practitioners in the world. And hopefully you!
Presenters include Julie Fleischer, Andrew Davis, Jeff Charney, Scott Stratten, Katrina Craigwell, Scott Abel, Pam Didner, Joe Pulizzi, Lee Odden, Ann Handley, Joann Sciarrino, Michael Brenner, George Stenitzer, Gini Dietrich, Scott Monty, Seth Rogin and so many more.
Now, the fun part. Prizes!
What is up for grabs? 
Free hotel accommodations at CMWorld 2014 – a 3-night stay in one of the CMWorld hotels*
½ off your 2014 Content Marketing World registration (did you already register? That's OK – we will refund you, or better yet, share it with a colleague/friend!) **
Other fun prizes, shirts and such given throughout the week!
How can you win?
#1: Twitter Entry
Click to Tweet: I'm entered in #CMWorld's drawing great prizes incl. 50% off tix or free hotel! How to enter: http://ctt.ec/89oiV+ @CMIContent
Every tweet is an entry! Be sure it includes the #CMWorld hashtag. Every tweet between 6/23-7/3 counts!

#2: Blog Comments
We know you. We know you have awesome ideas and have much to say! Any comment on the CMI blog or the CMWorld blog between 6/23-7/3 will count as one entry. Visit our blog or better yet subscribe to receive them so you get your daily reminder!

#3 Facebook Comments
Every comment (likes don't count – we're making you work for it!) on our CMI and CMWorld Facebook pages from 6/23-7/3 will count as an entry! Shares don't count because of certain followers' privacy settings, so we want to keep it fair.

#4 Instagram
Find us on Instagram and join in the #CMWorld fun! Whether it is a photo of you donning orange clothing, posting a photo from a past CMWorld, Instagramming a photo of a speaker you can't wait to hear, hashtag #CMWorld! Each Instagram #CMWorld or @CMIContent tag counts!
The Fine Print:
Each platform is a little different. Plan accordingly. If in doubt, hashtag #CMWorld.
One person will win the hotel stay, one will win the discounted ticket, just to spread the love a little. We know some of you are very lucky and would have had a good chance to have your name drawn twice.
Timeframe is going to be 6/23-7/3 – tweet, post and comment to your heart's content!
We'll pick winners over that following weekend and announce on our CMWorld Facebook page the week of July 7.
Registration:
Registration for Content Marketing World is open, so if you want to be sure to get registered (and then subsequently reimbursed for ½ your ticket if you win), visit www.contentmarketingworld.com/info to register now. Use discount code CONTEST to save $100 off of your registration, now through July 3!
Ready, set, GO!
*Must be a registered attendee of CMWorld to claim this free hotel accommodations.
**If you register during the contest you will be refunded 50% of the fee paid up to $647.50.  Attendees already registered will be refunded up to $647.50.  If the winner is not registered they will be given a 50% discount code to use when registering.
Posted June 25, 2014 in: Event by Cathy McPhillips
---