Content Marketing World is part of the Informa Connect Division of Informa PLC
This site is operated by a business or businesses owned by Informa PLC and all copyright resides with them. Informa PLC's registered office is 5 Howick Place, London SW1P 1WG. Registered in England and Wales. Number 3099067.
#CMWorld 2015 at 2014 Prices? Today is Your Last Chance!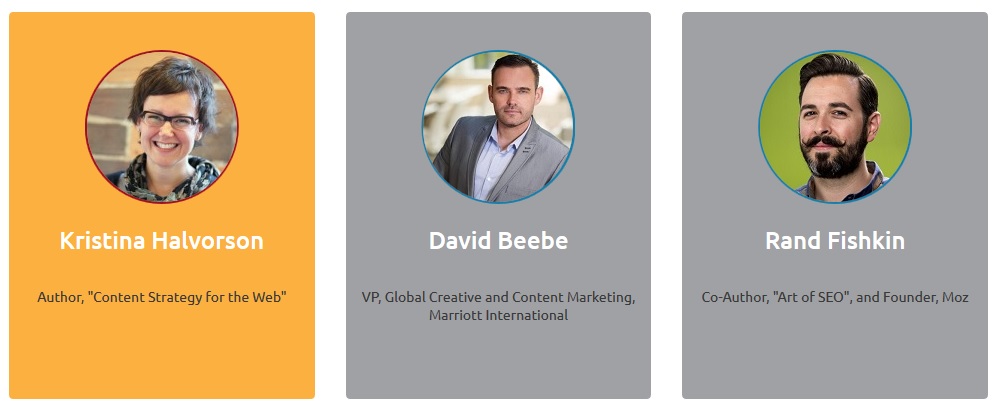 Kristina Halvorson
Rand Fishkin
Marcus Sheridan
Ann Handley
Jay Acunzo
Julie Fleischer
Mitch Joel
Justin Levy
Ardath Albee
Lee Odden
Jay Baer
John Lee Dumas
David Beebe
This is just a snapshot of the incredible speaker talent that will be at Content Marketing World 2015. We'll cover YOUR area of interest – B2B, B2C, sales enablement, content strategy, demand generation, analytics. Our tracks are set up so you can easily select the best sessions for you and your position within your company. But really, do you need to stay in one track all day? No, especially for those of us whose roles scale many of the different session offerings at CMWorld.
2015's event will have more speakers, more concurrent tracks, bigger rooms with more seats, and so much more.
Today marks the end of 2014, and also the end of 2014 pricing for Content Marketing World 2015, as rates increase January 1. Before you bid farewell to 2014, book your registration for CMWorld 2015 – and have your resolution completed before the New Year even begins!
We can't wait to see you in Cleveland. Watch the website as our agenda and complete speaker list unfold. You won't want to miss this.
Questions? Comments? Let us know – we're here to help! 
Posted December 31, 2014 in: Event by Cathy McPhillips
---
UP