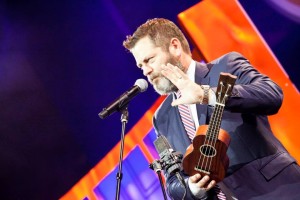 For our 3,500 attendees from Content Marketing World 2015, who could forget Mr. Ron Swanson as our closing keynote? Nick Offerman spent an hour with us sharing his advice on having integrity and being authentic in your business and marketing. For all of the creators, artists, marketers, writers, and all of us in our industry, we wanted to leave you with some poignant moments from his presentation shared by some of our incredible attendees.
Janet Cho from The Plain Dealer in Cleveland
Offerman, who has just started writing his third book and already has a deal for his fourth, is an avid woodworker, building canoes, paddles and whatever else was asked of him.
"Anytime you make something for someone, whether I make things for my audience, for my wife, or anyone else, it says: 'Hey, I took the time to think about you. This is from my heart, and I made it with my hands."
Danielle Ziegler, a content marketer with a special interest in holistic health
Danielle offered up her 7 Useful Quotes from Content Marketing World, including one from Nick Offerman:
"Don't build your house on rented land." – Joe Pulizzi (Publish on your own content hub)
"The only way we can differentiate is how we communicate." – Don Schultz
"You're more likely to survive a plane crash than click on a banner ad." – Chad Pollitt
"Don't confuse activity with productivity." – Kristina Halvorson
"The only things that matter: business outcomes + customer satisfaction." – Kristina Halvorson
"People don't have relationships with brands. They have relationships with people." – Seth Godin (He wasn't there, but it was an important reminder.)
"By filling your life with what makes you happy, the trick is you end up having a beautiful life even if you don't ever hit a home run." -Nick Offerman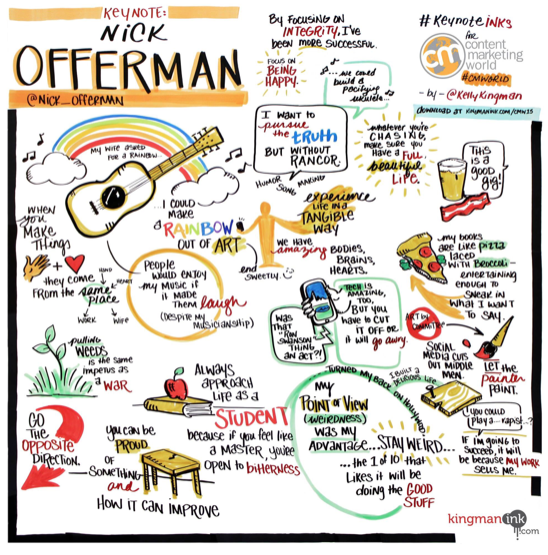 Beth Negus Viveiros of Chief Marketer 
As Joe Pulizzi has said for year's, it was great to have Offerman echo his sentiment:
For his part, Offerman said that he wasn't sure his particular style of content would be easy to market. He noted that while he has many friends who are brilliant at writing jokes, he's more of a storyteller. "Think a less educated, more foul mouthed Garrison Keillor," he laughed. "Know your niche."
As we turn the page on the calendar and start the year off strong, remember these points – that can apply not only to you, but also to your content marketing:
Be heartfelt
Do what makes you happy
Know your niche
What were your takeaways from Nick Offerman? And while we're talking about keynotes, who would you like to see on the Content Marketing World main stage at CMWorld 2016? We'd love to know!
Registration is open for CMWorld 2016 – join us! BLOG100 saves $100 off of our current Super Early Bird prices that are available until 2/29/16! 
Posted January 11, 2016 in: Event by Cathy McPhillips
---