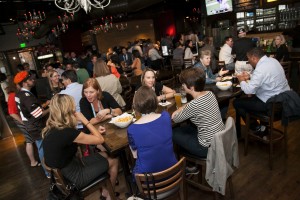 It's that time of the year again, the time you are looking at continuing education, events, conferences, in-person, virtual, paid, free, and it's just downright overwhelming. Which ones are right for you – because honestly, there are SO many great ones. I know that when I look at more and more events, the more particular I get about how I spend my time.
I ask myself a few questions:
How will this benefit me as a person?
How will this benefit my role within my company?
How can I take my learnings and apply them to the role I want?
Would I really be missing out if I wasn't there?
Now, of course, as Marketing Director at CMI, one of my big objectives is getting people to come to the event. But even so, I have spent more time pouring over sessions and notes from last year because as Marketing Director, I have put so many of my learnings into place.
How will this benefit me as a person?
So many of us in marketing spend a lot of time behind a computer screen. It's good for me personally to get out from behind the desk, stretch my legs and my vocal chords and get out and talk to people. One thing I love about Content Marketing World and the CMWorld community is the lack of barriers. I could sit down with someone who is in essence a competitor of CMI, and I could map out our entire marketing plan for the year, ask for advice, insights and constructive feedback, and then in turn do the same for my peer. It happened last year at Great Lakes Brewing Company during our opening reception, ContentFEST. I walked away after a fun night out with some serious itching to get back to work because of some amazing new ideas. Aside from all that, spending time in real life with industry folks and old and friends is really, really important and good for the soul. Chatting, camaraderie, laughing and understanding – what more could you ask for?
How will this benefit my role within my company?
Aside from really getting some great tactical examples and case studies (one of the best things about the speakers at CMWorld – the advice and real-life experience!), I was able to hear other sessions that impacted the company as a whole, giving me a broader perspective to truly understand and appreciate how my role impacted our entire organization. The sessions made me take a step back from my too-frequent nose-to-the-grindstone ways, and focus on big picture and strategy. So much, in fact, that Michele Linn, our VP of Content, and I both have a tasked ourselves in making sure that what we're doing within CMI is always aligned with adhering to our company mission or impacting our core business goals. CMWorld 2014 really helped me in that regard. (Full disclosure: I watched the sessions via video on demand post-event, as I didn't have time to sit live in one session last year! Too much time chatting with our attendees!)
How can my I take my learnings and apply them to the role I want?
Lucky for me, I have the role I want. With that said, every day I tell myself I could be doing better. So while my title and position may remain, my "role" has been crafted based on new ideas I learned. For example, after watching the sessions, I wanted more of my time spent digesting analytics and trends, and less time doing some other parts of my job. So, we made that happen. Many attendees come to the event looking to really understand their role within content marketing and how to really create the role they want to have within their organization, or even a new organization. It's great to network and to talk to others on what they're doing in their positions, and even listen to the speakers talk about their roles. The world of content marketing is your oyster. As the industry evolves, mold your opportunities to your talents and interests, so that you really love doing your job each day.
Would I really be missing out if I wasn't there?
This really is an event like no other. I could even say that after watching the video on demand, I would have loved to be in some of those sessions feeling the energy and excitement from the attendees and the speakers. (I'm not the only one that's easily excitable when people start talking about processes, spreadsheets and data, right?) The other parts of the event, the evening entertainment, the networking breaks, the cocktail hours, even down to the 5-minute chats in the hallways, really are irreplaceable. With 2,600 people at CMWorld 2014, there were moments that I felt like I was at an intimate event of 20, and equally as many times when I thought how lucky I was to be one of a few thousand people all working to make the content marketing industry better.
What other questions do you need answered as you make your decision? We're here to help. Have you seen our Justify Your Trip letter? We took some of the legwork out for you. What else? Please let us know.
This truly is the best time to register – and here's why:
Super Early Bird rates expire on February 28, 2015
If you use code CMI100, you'll save an additional $100 off of published rates!
Anyone that registers by 2/28/15 will be entered for a chance to win a 3-night hotel stay during CMWorld 2015.*
*The random drawing will include ALL registrations from 12/1/14 – 2/28/15. If you have already booked your hotel and you are selected, you can book with CMI at no charge, and will be notified when you should cancel your paid reservation. 
Posted February 20, 2015 in: Event by Cathy McPhillips
---