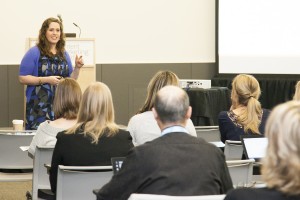 All you need to know about Ahava Leibtag's philosophy is right there on her firm's homepage: "Be brave in your communications."
The site continues: "It takes a lot of work to say the right thing. Content is a conversation – a complex one in this age of digital media."
Those three thoughts – being brave, the fact that content marketing takes a lot of work and that content is a conversation – sum up well the reasons why you should hear Ahava Leibtag speak at Content Marketing World 2015.
Let's break them down.
First, what does she mean when she says be 'brave in your communication?' Aha Media Group, the firm she leads as founder and president, helps clients feel empowered to make bold, strategic decisions based on data. They specialize in working with clients who want to understand the confluence of content strategy and user experience. And who doesn't?
Second, it's refreshing to hear someone admit that content marketing takes a lot of work. So many vendors today talk about how their tool or system or solution can make content marketing simple, but it really is yeoman's work…and you know that someone who understands that will be right there with you, helping you get it done.
Finally, the idea that content is a conversation is an adaptation of Ginny Redish's idea that a website is a conversation (from her classic book, Letting Go of the Words: Writing Web Content that Works. This smart variation shows that Ahava understands not only that all content is important, but that every audience is important, as well.
Ahava has been giving engaging content marketing presentations all across the country for some time now. From 'overcoming content fatigue' to 'smashing silos' and 'bringing sexy back,' Ahava and the team at Aha Media Group make it interesting and fun to learn all you need to know.
Need another reason to see her speak at Content Marketing World 2015? How about a discount? Better hurry…our early bird discount ends on May 31 and can save you up to $500!
Find out more about Ahava by visiting her bio page on our website, by visiting the Aha Media Group website or by connecting with her on Twitter.
Remember, time is running out! Be sure to register for Content Marketing World 2015 today. You can also use the code CMI100 to save an additional $100. Visit our registration page to get started right now!
Posted May 27, 2015 in: Event by Mike Myers
---