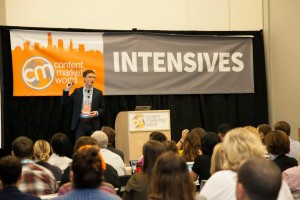 With all of the technology and terminology in the content marketing space today, it may seem like people are speaking a different language sometimes. You need a translator, someone who understands how to get practical information from all this technology that can actually help your business.
In short, you need Andy Crestodina.
Today, Andy is Strategic Director and co-founder of Orbit Media Studios in Chicago, but he was classically trained as a foreign-language teacher in Iowa. Who better to help you navigate the complex world of content strategy and content marketing than someone who could teach Mandarin in the heartland of America, right?
Andy's unique combination of asking the right questions and simplifying the complex makes him the perfect person to seek out when you want to better understand something as complicated as content marketing.
He's well known across the content marketing industry as a coach, mentor and speaker and he relishes that role. He takes pride in keeping each event he leads as practical as possible by teaching immediately applicable techniques. He's known for using simple explanations to demystify tough web strategy issues.
Now, doesn't that sound like what you need?
As an example of his ability to simplify, Andy talks about two numbers that truly matter when measuring web traffic: total traffic and conversion rate. "Every action should be designed to affect one of those two numbers or it doesn't really make sense," he says.
You want to make sense, don't you? Keep reading.
Andy believes that, just because analytics and measurement can be complex, that doesn't mean it has to be difficult. "It's about asking questions and getting direct answers for simple, practical quick hits. Small things that make a big difference [and] getting the ideas for those actions through your analytics," he says.
When asked recently about the top two or three things people should be looking at from tools like Google Analytics, Andy summed it up this way: "Analytics is supposed to be simple: it's A (acquisitions), B (behavior) and C (conversions). Sounds easy, right?"
Well, it does now, thanks to one Andy Crestodina.
Fortunately for you, Andy is returning to Content Marketing World 2015 to give us more ready-to-use insights. If you're ready to learn more simple tips for measuring and improving your content marketing, come check out what Andy Crestodina has to say at Content Marketing World 2015.
Find out more about Andy by visiting his bio page on our website, by visiting Orbit Media online  or by connecting with him on Twitter @crestodina.
Register for Content Marketing World 2015 today! Discounts are still available, but hurry – our early bird discount ends May 31. Visit our registration page  to get started. Code CMI100 saves $100! 
Posted March 25, 2015 in: Event by Mike Myers
---