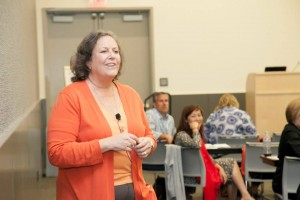 Okay, let's get this out of the way right up front. Her name is pronounced (Aré-dith All-bee). I tell you this for two reasons: first, it's not a common name. And, second, you're going to want to pronounce it correctly when you're raving about the insightful things she has to say.
When it comes to marketing pros, Ardath is a well-known expert in the area of persona development, especially for business-to-business (B2B) brands. She is CEO of Marketing Interactions and author of the 2009 book, eMarketing Strategies for the Complex Sale, which has helped many B2B marketers leverage technology to differentiate themselves with what she at the time called "attraction marketing."
On a recent podcast, Ardath talked about how it can be hard to deal with all of the technological change going on in marketing today while also learning to talk about our brands differently. "While marketers are trying to grapple with all of these channels and everything else," she noted, "they also have to grapple with 'how do we change the story that we've always told?'"
This shift in message isn't easy for marketing people who are used to being behind the scenes, she says. "Marketers know their products very well, but what people care about is what's in it for them." It's that shift in messaging – from products and services to what the audience really wants to hear about – that Ardath spends the majority of her time helping clients understand.
In other words, she gets content marketing.
"Marketing campaigns suck the life out of buyer engagement."
The campaign system marketing has built, Ardath says, was built for marketing, not for consumers. As a result, just as a marketing campaign starts to build momentum and people start listening to the story we're telling…it stops or changes. At that point, people tune out, she says, because we aren't talking about the same things that attracted them to us.
It's this kind of insightful thinking that allows Ardath to help clients in even the most complex categories.
And, while her business life has been quite successful, including a new book, Digital Relevance: Developing Marketing Content and Strategies that Drive Results, and ongoing consulting work, Ardath also enjoys writing fiction. "Getting the chance to live inside a character for a few hours each day gives me a new perspective, lets me stretch my creative legs, and explore all kinds of things I'd otherwise never have time to think about," she says.
Your chance to learn from Ardath Albee is coming this September as she returns to Content Marketing World to lead a workshop on developing a B2B demand generation model. Don't miss it!
Find out more about Ardath by visiting her bio page on our website, checking out her firm, Marketing Interactions or by connecting with her on Twitter.
And be sure to register for Content Marketing World 2015 today! Our early bird discount ends May 31 and you can use the code CMI100 to save $100. Visit our registration page to get started right now!
Posted April 29, 2015 in: Event by Mike Myers
---