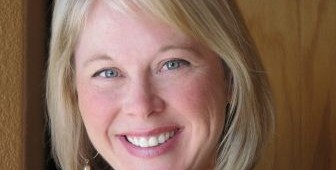 We've all heard that storytelling is important in content marketing today. People remember a story, we're told. But what's the best way to tell a brand's story and to whom should we be telling it?
If these questions are on your mind (and how can they not be?), you'll want to attend Carla Johnson's presentation at Content Marketing World 2015. She and her firm, Type A Communications, specialize in helping brands tell their story. And it's not just for customers.
"We help companies to tell better stories so that they can create brand awareness and they connect better with customers, and they can engage with employees," Carla said recently.
Engagement of employees is an important distinction here. Carla mentioned in a recent podcast that creating a story helps employees from all areas talk about a brand consistently, but she especially likes to bring those from marketing and sales together.
"Marketing tends to lead the way in telling the story, but sales really needs to be a partner, because when you put the two groups together, they're what I call the promise makers. They make these promises about what customers and prospects can expect from their experience in working with the customers. They have to come from that same perspective. They have to make sure that they're on the same page. Otherwise, what they do is they create sort of a schizophrenic experience."
And no one wants that.
In college, Carla was a history major and she credits this start in her professional life with helping her learn the importance of storytelling. She believes that marketing and history have a lot in common.
Whether it's in school or in our everyday lives, when we're being drowned with facts and figures, we all know our eyes can glaze over. But, Carla says, if we hear that same information in the form of a story, we're more engaged and we remember it. "That's exactly what marketing inspires people to do is get excited and get engaged," she says.
But what about consistency – a story must be told the same way to be effective, right? Again, Carla goes back to the all-important link between sales and marketing and how improving that relationship can help a company tell a story consistently.
"As marketers, we tend to like to control things, because we want it perfect and we always want that message right on. But, if you can work hand-in-hand with the sales team and truly teach them that story and how to tell it from a 360-degree perspective, then that's really where you liberate it; because they can take it."
A large part of what Carla and her firm does is to help brands connect their story to business objectives. When asked about this recently, Carla didn't hesitate.
"When we talk about story, there are two key questions. One is: 'what's the difference you're trying to make in the world…why do you matter?' The second one is: 'if your company went away tomorrow, what would your customers miss? You have to have your story first. Then you have to look at what your business objectives are, and then you have to marry the two, because ultimately your story has to support what you want to achieve as a business."
These are important questions that marketers and brands need to answer for themselves. But don't worry, there's help. Carla will be speaking at Content Marketing World 2015 to help you develop the answers to these questions and more. Be sure to take advantage of that opportunity.
Find out more about Carla by visiting her bio page on our website, visiting Type A Communications or by connecting with her on Twitter. For even more from Carla, read her new book she co-authored with CMI's Robert Rose, Experiences: The 7th Era of Marketing.
Lastly, register for Content Marketing World 2015 today! Our early bird discount ends May 31 and you can use the code 'CMI100' to save $100. Visit our registration page to get started right now!
Posted April 15, 2015 in: Event by Mike Myers
---