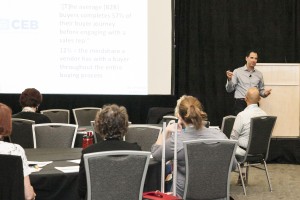 The term strategic demand generation means something specific in business-to-business (B2B) marketing circles. But, to many of us, it's a complex and elusive goal.
And maybe a little scary.
Of course, there are people who truly understand this space, but these experts can be hard to find and, sometimes, even harder to understand. There is one demand generation expert who willingly shares what he knows with the rest of us, and his name is Carlos Hidalgo.
Carlos is CEO of ANNUITAS, a lead generation and marketing automation firm that helps enterprise organizations transform demand generation and drive revenue.
"Buyer personas are actually self fulfilling prophecies."
With over 20 years' experience in B2B marketing, Carlos understands the value of developing buyer personae. But he also understands the importance of knowing who creates those personae.
If it's a product marketer, he says, they may be biased toward a persona that just happens to be a perfect match for their specific product. In short, they know too much about their product to be impartial.
Carlos would rather talk about buyer insights and market conditions. What's going on in the marketplace that drives buyer behavior? And just how do we get these insights, you may ask?
That's simple, he says, ask them.
"Customers and buyers love to talk about themselves," says Carlos. And the good news is that people don't just talk about the weather. "Really, buyers are very cognizant of the different steps they take to purchase."
And this is where demand generation and content marketing really start to align, he says. "Because once we understand how that buyer goes about that purchase, we can start to align the relevant content to engage, nurture and convert that buyer."
This is where Carlos stands out from the crowd of demand generation experts – he understands the value of creating and delivering the right content at the right time to encourage the behavior you want.
And, of course, the insights don't just come from customers. There are insights all around an organization that can help marketers know what kind of content is needed, according to Carlos.
"We should also be talking to sales people, we should be mining our data to really understand the different organizations that were involved in that purchase process. And we should be talking to our customer support people who are the phone with our customers everyday."
Okay, you might say, gathering insights makes sense. But what do we do after we have insights?
"Once we have all that insight, it's really understanding what type of engagement content we need, which is really there to help educate the buyer and give them a sense that they can trust us as a vendor."
See, I told you he was different.
Carlos understands how content marketing can help drive demand for products and services, plain and simple. How can you learn more about this important topic from an expert like Carlos? That's simple, too! Come hear him speak at Content Marketing World 2015.
Find out more about Carlos by visiting his bio page on our website, the Annuitas website, or connect with him on Twitter.
And be sure to register for Content Marketing World 2015 today! Our early bird discount ends May 31 and you can use the code 'CMI100' to save $100. Visit our registration page to get started right now!
Posted May 20, 2015 in: Event by Mike Myers
---