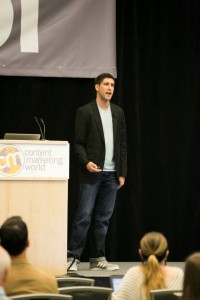 How do you know if someone just gets it? You know, whether they understand the things that are important to you and may be able to help you understand them, too?
You could look at their experience, their education or their social media presence for clues. But, for those of us who write, there's one sure way to tell if someone is worth listening to – take a look at their personal blog.
One look at Jay Acunzo's blog and you know he understands the world we live in. The name of his blog? Sorry for Marketing.
People who work in marketing inevitably feel this way at one time or another. Our trade, our chosen profession has, at best, made us feel uncomfortable (e.g. direct marketing, or what the rest of the world calls junk mail) and at worst just made us look bad (e.g. telemarketing or what the world calls, well, telemarketing).
Who among us hasn't gotten this question from their Aunt Marge as she points to a never-ending infomercial interrupting her shows: "Honey, why do you bother people like that?" It's a fair question.
Jay understands. And he comes right out and apologizes on behalf of all of us – right up front.
Of course, he also has great experience (working for ESPN, HubSpot and someplace on the West Coast called Google). He has the education (Phi Beta Kappa at Trinity College) and a solid social media presence that all makes him worth listening to; but it's his witty honesty that makes you realize you need to pay attention to what this guy is saying.
It's true.
Jay simply has the ability to say what needs to be said without starting World War III. He expresses his opinions, but doesn't just do so to rant…he works hard to make sure his readers benefit from his anger issues, er, I mean experiences (just kidding there, Jay).
In one of his recent blog posts, called Don't forget to tip your haters, Jay walks his readers though how some famous people have taken inspiration from their own failures. He also weaves in his own story and how he's been inspired, even driven by his own haters. Then he does something quite amazing, I mean, on the order of the Grinch's heart growing three sizes on that fateful day amazing…he thanks those same haters for inspiring him.
If I've convinced you to listen to Jay Acunzo (and I hope that I have) I also have a suggestion for how to do it.
Jay Acunzo is again speaking at Content Marketing World. So, when (not if, but when) you arrive in Cleveland and start making your plans for which presentations you'll attend – and I understand it won't be easy – I would suggest putting Jay atop your list.
You'll be glad you did.
Find out more about Jay by visiting his bio page on our website, by visiting his Sorry for Marketing blog or by connecting with him on Twitter.
And be sure to register for Content Marketing World 2015 today. You can still use the code 'CMI100' to save a hundred big ones ($100). Visit our registration page to get started now!
Posted June 3, 2015 in: Event by Mike Myers
---