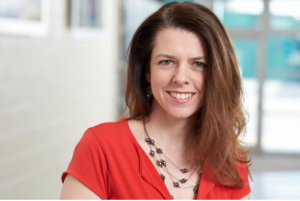 If you want to learn how to bring a consumer-centric point of view to business-to-business (B2B) marketing, you may want to copy what Xerox has been doing lately (sorry, I couldn't resist).
Jeannine Rossignol, Vice President of Global Marketing for Xerox Corporation's Large Enterprise Operations, has been working hard to take the venerable document management company to the front of the line when it comes to how it talks with – not at – its customers. And it's working.
Jeannine talks about how Xerox has transformed itself, in part, due to a more optimistic attitude toward its customers.
"We're not talking to them about their problems and how we can help them solve their problems," she says. "We are talking about opportunities we can uncover with them. We've gotten such an amazing reaction from our customers. It feels really good to feel optimistic."
A fun way she talks about companies who need to think differently about their marketing messages is a reference to the ubiquitous selfie. Many businesses, she says, are just as self-absorbed as the stereotypical person taking a picture of themselves. And B2B marketers may be particularly guilty.
"As B2B marketers…we wanted to talk about ourselves and why you should buy from us, completely ignoring the person behind all those business decisions at those companies. We have to be customer-centric marketers. We have to humble enough to know it's not about us."
Embracing the understanding that people don't want to hear about our brands, but their own needs, is the point here. And it's a point well taken. In fact, it's the cornerstone of content marketing, which is something Jeannine has spoken about at many industry events, including Content Marketing World Executive Forum and our virtual event, ContentTECH.
Jeannine also talks about thought leadership and how, when it's done well, it helps build relationships with people, becoming one of the most effective marketing strategies in a B2B setting.
"Thought leadership isn't about selling, it's about engaging," she said. "It's not about targeting the company, it's about targeting a person and you have to understand their wants, their needs, their experiences, and their beliefs because it's their beliefs that are going to drive their decisions to actually make that purchase, and they will tell their network about their experiences."
Exactly.
B2B doesn't have to be B-O-R-I-N-G
"B2B can be just as fun as consumer marketing. It's an exciting place to be from a marketing perspective. B2B is becoming more and more like B2C. You have to listen, not just to respond, but listen to understand." Jeannine said.
If you work in the B2B space and want to learn how to avoid taking a corporate selfie – and want to have fun doing it – you should come see Jeannine Rossignol speak at Content Marketing World 2015!
Find out more about Jeannine by visiting her bio page on our website, see her work on the Xerox website or connect with her on Twitter.
And be sure to register for Content Marketing World 2015 today! Our early bird discount ends in less than three weeks (May 31) and you can use the code 'CMI100' to save $100. Visit our registration page to get started right now!
Posted May 13, 2015 in: Event by Mike Myers
---