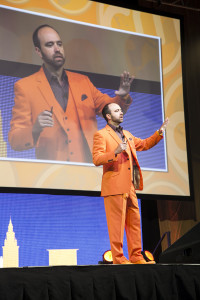 Creating a speaker spotlight for most of the speakers at Content Marketing World is pretty straightforward. Speakers will talk about a certain part of Content Marketing or something closely related, like social media, and that's where we begin.
Then there's Joe Pulizzi.
Joe is not talking about something specific. In fact, I would argue he's not a speaker at all, but more of an evangelist. An evangelist is a person who seeks to convert others to something they believe in, something they think will be beneficial for them.
That's how Joe feels about content marketing.
He wouldn't try to convince people to use it if he didn't believe it would help them. And he should know, it's worked for him.
You may have heard the story: Content Marketing Institute (CMI) started as a brand-and-agency matching service. Brands would approach Joe's company, then known as Junta42, looking for help creating content. His firm would then match the brand with the right agency and that was it; that was the business model.
But there was a problem. It wasn't working.
Oh, the agencies were happy. But the brands wanted more. They wanted to learn how to create content themselves; to manage it and distribute it, like publishers. They wanted more education and wanted to find ways to network and learn from each other. Joe saw an opportunity to fill this need and The Content Marketing Institute was born.
It's a great story and CMI would certainly be a successful business today if it had promoted itself like any other business. But Joe saw more.
It was 2007 and Joe understood that he needed to promote his new business model and grow the CMI brand, as well as his personal brand as its leader, but he also knew things were changing. The old ways of promoting a business – interruptive things like advertising and promotion – were becoming less effective. So he bet the whole business on content marketing.
If he was going to recommend it to other brands, he was going to do it himself.
So he set up a blog (what's now contentmarketinginstitute.com) and started developing plans for an in-person event (what would become Content Marketing World) as well as a print magazine, Chief Content Officer.
Yes, a print magazine – in 2011.
Of course, the rest is history and CMI has been very successful. But it's important to remember that there was a choice to be made. When Joe had to decide how he would promote his new business, he chose content marketing. I believe this makes the Content Marketing Institute the single best case study content marketing has ever seen…and we've seen lots of them.
So, please, come see Joe speak at Content Marketing World 2015. Not because he's the most provocative or outlandish speaker on the schedule. And not because he wears lots of orange (although you can bet he will).
Come see Joe speak because he understands content marketing perhaps better than anyone. And, when given the choice, he bet his future on it.
If you want to learn more about Joe Pulizzi, visit his bio page on our website connect with him on Twitter or visit his personal website.
Meet Joe and be part of the fun and register for Content Marketing World 2015 today. You can use the code 'CMI100' to save $100. Visit our registration page to get started right now! Hurry – it's just a few weeks away!
Posted August 5, 2015 in: Event by Mike Myers
---