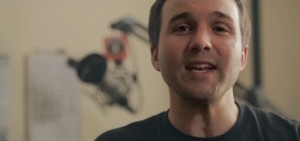 Today, everyone knows what a podcast is, but that wasn't always the case. With its recent popularity, you could say this all-audio format is on fire, which would suit John Lee Dumas just fine.
Dumas is the founder of the Entrepreneur On Fire Podcast and is one of the most successful podcasters around. But it wasn't always that way. Right out of college, John served our country in the US Army, then tried his hand at several vocations, including financial services and real estate.
But he was looking for more.
Spending a great deal of time in his car, John discovered podcasts and started listening. It wasn't long before he was hooked. But he quickly realized there were no seven-day-a-week podcasts…and he saw his opportunity.
In 2012, he created the Entrepreneur On Fire podcast and has grown it every year since. Want proof? Just take a look at the income page on the Entrepreneur On Fire website, where John shares his gross and net earnings for every month since the podcast's inception.
It's this kind of transparency that keeps his followers – those he affectionately calls Fire Nation – coming back month after month. In fact, his fans listen to the Entrepreneur On Fire podcast more than 750,000 times every month.
On his podcast, John interviews today's most inspiring and successful entrepreneurs seven days a week and has been featured in Forbes, Inc., and Time Magazine. He also founded the number one podcasting community in the world, called Podcasters' Paradise, where more than 1,200 podcasters learn how to create, grow and generate income from their podcasts in a supportive environment.
Whether you're an entrepreneur in the making, a podcast fan, a budding podcaster yourself or are just looking to learn more about this growing way to distribute content, you should come to Content Marketing World 2015 to hear John speak.
His passion and dedication to podcasting are unmatched and you'll be hard pressed to find another way to learn more about podcasting than from attending his #CMWorld session in Cleveland this fall.
Find out more about John by visiting his bio page on our website, by visiting the Entrepreneur On Fire site or by connecting with him on Twitter.
Register for Content Marketing World 2015 today! Don't forget, our early bird discount ends May 31 and you can use the code 'CMI100' to save $100. Visit our registration page to get started right now!
Image source: From Entrepreneur on Fire "About" page. Click to view John's video. 
Posted April 8, 2015 in: Event by Mike Myers
---