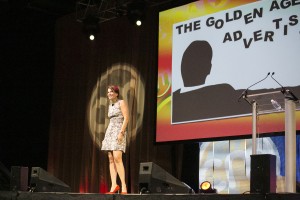 It can be a challenge developing a content marketing approach in any organization. In large enterprises, there are particular challenges: one usually has to get buy-in not only from the top, but also from all the peer groups (read: silos) that exist.
Often, there's a Director of Data, a Director of Content and a Director of Media who all have to agree before a content marketing program can move forward.
Or, you could just give one person all three jobs.
That's what happened at Kraft Foods, the 2012 spin-off of the venerable grocery brand, where Julie Fleischer holds all three titles. And, since the Content Marketing Institute named her its Content Marketer of the Year in 2013, it appears she's making a go of it  (that's an understatement, folks).
Julie has become an inspiration to many marketers who are trying to balance the burgeoning demands of content marketing with the challenges from other key areas, such as those from so-called 'big data' as well as from media and advertising. And the good is that she will be back in 2015 to inspire you at Content Marketing World 2015!
Julie is well known for bringing this balance to Kraft, including key areas such as Social Media and real-time marketing, noting in a recent talk that real-time marketing can lead to "chasing whatever's happening and trying to attach yourself to it." She said that, while it's important for brands to be topical, they can't do so at the expense of remaining relevant. It's that balance that's noticeable in Kraft's recent success.
For example, Kraft's Food & Family magazine, with a paid circulation about the size of Food Network magazine, generates renewal rates that are two times the industry standard. Julie attributes this success to the fact that Kraft is always looking for ways to help its consumers.
When talking about the recipes inside the magazine, Julie said that, while one third come from the Kraft kitchens, fully two thirds come from its community of users. That level of engagement clearly shows they are doing things people appreciate.
"We're a food company, so we aren't selling advertising," Julie says. "What's important to us is that people actually buy our products and make these recipes – we're trying to give them solutions, not just something interesting to read."
Beyond the magazine, Kraft generates more than one billion ad impressions a year and, according to Julie, the firm's content marketing efforts earn a return on investment (ROI) that's four times that of its advertising.
While content marketing is critical these days, we understand it's not the only thing many marketers have responsibility for today. That's why we bring speakers like Julie Fleischer to Content Marketing World – and it's why you should consider attending this fall, to hear from people like Julie and take back ideas you can implement right away.
Find out more about Julie by visiting her bio page on our website, by visiting Kraft Foods online or by connecting with her on Twitter.
Then register for Content Marketing World 2015. Discounts are still available and we can even help you justify your trip. Visit our registration page for all the details! Don't forget, code CMI100 will save you $100!
Posted March 18, 2015 in: Event by Mike Myers
---