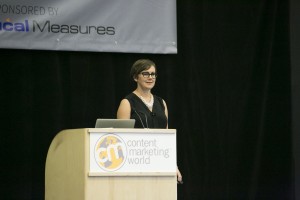 At an event the size of Content Marketing World (#CMWorld), you can find all kinds of presentations by all kinds of great speakers. This variety is one of the best things about the event and one of the many reasons you should attend.
There are presenters who mystify the audience with one great insight after another (a la Jay Baer). There are those who motivate the audience with their sheer will and caffeine intake (I'm looking at you, Andrew Davis). And then there are the rare few who dare to engage the audience by simply saying what needs to be said.
My friends, Kristina Halvorson speaks the truth.
You may know her as the founder of content strategy consultancy Brain Traffic or as founder of the well-attended and respected ConFab events. You may also know her as author of Content Strategy for the Web. I know her as that lady who speaks the truth.
This is not to say that other speakers don't tell the truth, they certainly do. But Kristina Halvorson dares to speak the truth about things others don't. You want an example, don't you? Fine.
Here are a couple of examples I captured at her presentation at last year's CMWorld:
And, while other speakers were referencing the standard content examples like Oreo's dunk in the dark and Coke's Liquid and Linked strategy – telling us these are the things we may be able to achieve someday – Kristina Halvorson asked some important questions. For example, how many people actually engaged with Oreo's famous dunk?
0.008%. Yeah, she did the math.
And what if Coke's liquid strategy so impressed you that you wanted to work there…could you even find where to submit a resume on their Journey website? (hint: it's pretty hard)
There's no question that these are great examples from leading brands and they both have clearly been successful in many ways (not the least of which is word of mouth within marketing circles). But are they the best examples of content strategy? Maybe not.
Did you even think about questioning that? I know I didn't. That's why I appreciate those who aren't afraid to question the status quo. Those who step up and say, "Hold on, is that really as it appears?"
Those who do the math.
If you're looking to understand content marketing at the next level, if you're ready to take that proverbial double-click into the space – and be inspired along the way – you need to start listening to people like Kristina Halvorson. And you need to come hear her speak at CMWorld 2015.
Find out more about Kristina by visiting her bio page on our website, by visiting Brain Traffic or by connecting with her on Twitter. And, please, consider attending Content Marketing World 2015 to hear her speak the truth live…you won't want to miss it.
Register for Content Marketing World today. Discounts are still available and hotels are starting to fill up. Visit our registration page right now!
Posted March 4, 2015 in: Event by Mike Myers
---