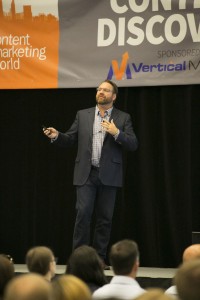 Marketers today have so many options available to them. From social media and search engine optimization (SEO) to content marketing, some would say marketers have never had so many great choices.
Of course, as marketers know all too well, more choices can be a good thing (think 31 flavors of ice cream), and they can also present a challenge (57 channels and nothing on). While we may have more choices, finding ways to get all of these great options working together to build a brand isn't easy.
Know what would be great?
It would be nice if there were someone who had experience with all of these marketing options, someone who knew how to integrate them to best help a brand grow. Someone who literally wrote the book on the convergence of these new marketing options.
I'm happy to report that there is such a person. His name is Lee Odden and the book is Optimize: How to Attract and Engage More Customers by Integrating SEO, Social Media and Content Marketing.
You may know Lee as the CEO and Founder of Top Rank Online Marketing, a Minneapolis-based agency that helps their clients (many of them Fortune 500 brands) optimize social media, SEO and content marketing.
Or, you may know Lee as an international speaker and consultant who is regularly on almost every who's who list of marketing experts (he's one of the top 15 social media thought leaders, in the top 10 on the Twitter Power 150, number 15 on the top 100 online marketers, you get the idea).
Or, you may know Lee as the creator of TopRank's Online Marketing Blog, a well-respected blog that's garnered media coverage from the likes of the New York Times, The Wall Street Journal, The Economist and a dozen others. In fact, it's the only blog ranked as the number one content marketing blog three different times by the Content Marketing Institute (fun fact: Lee has written more than 1.4 million words on the blog himself since its inception in 2003).
Regardless of how you may know him, you'll want to hear what he has to say about the continued convergence of social media, SEO and content marketing. And that part is easy – simply join us in Cleveland this September for Content Marketing World 2015.
Find out more about Lee by visiting his bio page on our website, visiting Top Rank Online Marketing or by connecting with him on Twitter.
And be sure to register for Content Marketing World 2015 today! Our early bird discount ends May 31 and you can use the code 'CMI100' to save $100. Visit our registration page to get started right now!
Posted April 22, 2015 in: Event by Mike Myers
---