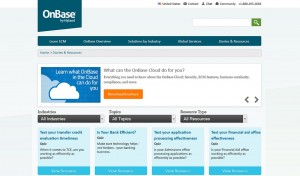 Perhaps no one understands content marketing better than someone who is responsible for marketing a content marketing solution.
Confused? You won't be, after you hear from Mickey Mencin.
Mickey is global director of brand and corporate communications at Hyland Software, a software firm known best for its OnBase enterprise content management (ECM) tool. And if she can help people understand ECM tools within specific industries like healthcare and insurance (both complex in their own right) she can help you understand it better, too.
At Hyland, Mickey manages a team responsible for content, creative, social and media strategy and analyst relations. So, just a few things going on there.
With a background that includes growing brands in the financial services and not-for-profit arenas as well as owning her own integrated communications agency, her experience and insight are a great example of the unique benefits you can only get from attending Content Marketing World 2015.
While working for a large regional bank after the most-recent financial downturn, Mickey led a team that discovered many of the bank's divisions weren't telling the bank's story in the same way. She was able to simplify and streamline the story the bank was telling and build confidence with its customers at a critical time.
And her focus wasn't limited to the bank's documents, she also led the transformation of the bank's web presence to reflect its simpler, more friendly brand positioning by creating all new content and adding a new web content management system.
Mickey also has a great deal of experience with content audits, something she will be speaking about specifically at Content Marketing World 2015. Her talk, The Trials and Tribulations of Conducting a Content Audit (Why less content is best content), is sure to deliver the insights.
Don't miss your chance to hear how you can learn from your existing content by attending Content Marketing World 2015 and checking out Mickey's session.
Find out more about Mickey by visiting her bio page on our website, by visiting the OnBase blog or by connecting with her on Twitter.
And be sure to register for Content Marketing World 2015 today. You can still use the code 'CMI100' to save $100. Visit our registration page to get started right now!
Posted June 10, 2015 in: Event by Mike Myers
---