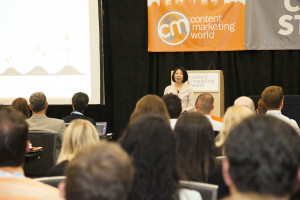 Let's say you work for a brand that's growing. Maybe your brand used to have a regional or national presence, but now you're ready to go global. That's great news!
Then you quickly realize your brand's global presence can present some challenges when it comes to content marketing: different languages, different cultures, and very different audiences with different needs. Yikes!
How do you deal with all of these moving parts when creating a global content strategy?
Well, you could try to methodically develop a step-by-step plan all by yourself to take your content strategy global. Or, you could simply come listen to global content marketing expert Pam Didner speak about this very thing at Content Marketing World 2015 (we may be biased, but the second option sounds much easier!).
In her talk, not coincidentally titled, Step-By-Step Planning to Extend Your Global Marketing Strategy, Pam will help you take your brand's marketing to the global stage. Or, if you're already there, she can help you perfect what you're already doing.
And don't worry my soon-to-be-global friends, Pam has the experience and know-how to help you take your brand to the next level. She's been a global Content Strategist, author and speaker for many years and was formerly Global Integrated Marketing Strategist for worldwide computer chip maker Intel. And her latest book, called (what else) Global Content Marketing, is available now.
When asked about Pam's unique global content marketing skills, CMI Founder Joe Pullizzi said, "Few people understand cross border content marketing as well as Pam Didner."
Many of us are familiar with the 4 Ps of marketing, Product, Promotion, Place, Price. In her session at CMWorld 2015, Pam will introduce what she calls the 4 Ps of global content marketing: Plan, Produce, Promote, Perfect, and she will tell you how you can harness this framework to build your own global plan.
Sounds good, right? So why don't you just hold off on developing that step-by-step plan and join us at Content Marketing World 2015 to hear what Pam has to say. We're pretty sure your plan will be better once you've included Pam's insights and we have a few other happenings at CMWorld 2015 (did we mention that John Cleese, Barenaked Ladies, Nick Offerman and Rajiv Chandrasekaran will be there, too?).
Good, so we'll see you there? Great.
If you want to learn more about Pam, visit her bio page on our website, connect with her on Twitter, or visit globalcontent.marketing.com to learn how she can help.
Don't miss out, register for Content Marketing World 2015 today! You can use the code 'CMI100' to save $100. Visit our registration page to get started.
Posted August 12, 2015 in: Event by Mike Myers
---