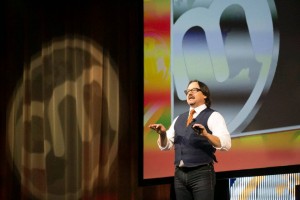 People, if you have yet to see Robert Rose speak, the time is now.
He's been helping audiences the world over think differently about Content Marketing essentially since its inception. His clear-sighted style and innovative thinking have helped him earn the title of Chief Strategy Officer for the Content Marketing Institute.
Oh, and he's funny, too.
Robert's background reads like a blueprint for a Content Marketing visionary. He started his career in Hollywood as a screenwriter, decided to leave that life to lead marketing for a technology startup, then met the Godfather of Content Marketing, Joe Pulizzi, while both were traveling and speaking about the burgeoning field.
It's like he planned it all along.
Today, he consults with Fortune 500 companies both as part of the Content Marketing Institute leadership team and as a Senior Contributing Consultant with the technology analyst firm Digital Clarity Group.
He has worked with brands like AT&T, The Bill & Melinda Gates Foundation, Petco, Caterpillar, ADP as well as entertainment brands like Nickelodeon and NBC, helping them hone their marketing skills and develop, as he likes to say, the new marketing muscles that will be required for the 21st century.
To further help brands develop these new muscles, Robert has written two books on Content Marketing. The first, Managing Content Marketing, written with Joe Pulizzi, helped to define the industry and offers solutions to many of the challenges marketers face when making the transition to Content Marketing.
His second book, Experiences: The Seventh Era of Marketing, with Carla Johnson, seeks to tie marketing's past to its future, all while identifying the next big challenge for brands: how to deliver the experiences people have come to expect from them.
At Content Marketing World this year, Robert will be speaking about two critical areas of interest for brands of all sizes: content creation and measurement. Anyone working in the space today knows these are two of the more pressing issues that few have solved.
Robert's willingness to take on the relevant issues and help brands find their own unique way to develop solutions makes him the Content Marketing equivalent of a personal trainer for brands. Either that or a Content Marketing Yogi. You pick.
Either way, you need to get to Content Marketing World 2015 and, if you do little else (we won't tell your boss) you need to hear Robert speak. He does not disappoint.
Find out more about Robert by visiting his bio page on our website, by listening to the weekly This Old Marketing podcast or by connecting with him on Twitter.
Reserve your place at Content Marketing World 2015 today. You can still use the code CMI100 to save $100. Visit our registration page to get started now.
Posted June 17, 2015 in: Event by Mike Myers
---