Most of us work in marketing in some capacity. So why in the world would we want to listen to a guy who bills himself as UnMarketing? That's easy: because he's right.
Whether you're listening to Scott Stratten at a conference, reading one of his UnMarketing books (there are several), visiting unmarketing.com or listening to his podcast with his better half, Alison Kramer (yes, she's @unalison), you quickly get the idea that he believes something in marketing needs to change. Yeah, Scott doesn't beat around the bush.
So, what is UnMarketing?
Scott believes marketing is always happening. It doesn't happen in boardrooms or meetings or when people are thoughtfully writing a brand strategy. It happens in everyday life.
"Every single time you choose to engage with your audience, or choose not to, that's your brand strategy," he said in one presentation. "Our actions are our marketing. It is not a brochure."
So, when he sees a brand doing something they probably shouldn't, he lets his 176,000 Twitter followers know about it. To be fair, he also lets people know when brands do something good.
For example, when six Delta flight attendants literally pushed in front of him in an airport security line without so much as an "excuse me," he mentioned to them that they might consider apologizing. The response? One of them shot back that she had apologized and that he needed to "Open his ears." Right there, in her Delta uniform. He couldn't get to Twitter fast enough: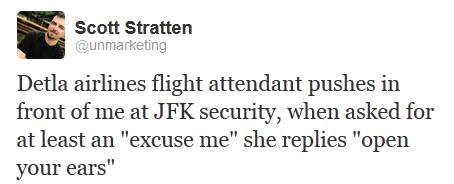 But here's where the story takes an unexpected turn. Delta could have decided to ignore that tweet. No one could have known if they saw it or not. But they didn't: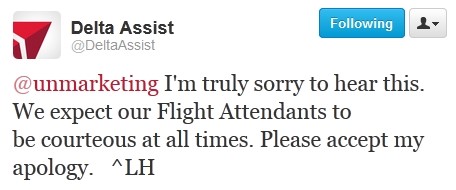 Within 16 minutes, Delta had responded and apologized. And note that Scott didn't tweet directly to a Delta Twitter handle (and that Delta was even misspelled in his hastily-written tweet). Still, they found it, responded empathetically and completely disarmed the situation:

There isn't anything called a neutral brand interaction, according to the Unmarketer. He believes everything we do contributes, either positively or negatively, to the perception of our brand. And he offers great insights you can take back and apply to your own branding efforts.
Scott has a unique view on the marketing (okay, UnMarketing) world today. One that many people agree is compelling – and one you have the opportunity to hear firsthand at Content Marketing World. Don't miss it.
Find out more about Scott by visiting his bio page on our website, by visiting his own site or by connecting with him on Twitter.
Register for Content Marketing World 2015 today! Scott will be returning for #CMWorld 2015. Visit our registration page and use code CMI100 to save $100!
Posted March 11, 2015 in: Event by Mike Myers
---