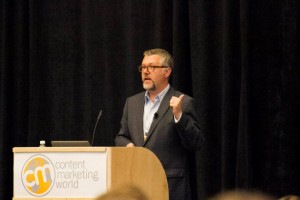 How do we learn? That's a pretty deep question for a speaker spotlight, huh? Well, just wait until you meet Tom Webster.
Of course, there are many ways we can learn. And one of the best ways for those of us in marketing to learn is to conduct some research.
I know, research can sound dry and uninteresting. But think about it for a minute. Some of the most important decisions we make — from a simple impulse buy in a convenience store (Coke or Pepsi?) to the person we choose to vote for as President — can all be predicted through a thing called behavioral research.
And, if you want to understand the fascinating world of behavioral research, my friends, you need to be listening to Tom Webster.
Tom is Vice President of Research and Marketing at Edison Research, a firm that conducts the exit polls used by all major TV networks during presidential elections. He also writes a blog called BrandSavant and hosts a podcast with Mark Schaefer. And he's written a couple of definitive books in the space, most recently including the 2014 book, The Mobile Commerce Revolution: Business Success in a Wireless World (with Tim Hayden).
So he's done a few things.
But how do you know you should be listening to Tom Webster? That's easy. Tom has the rare ability to take what may seem like mere numbers and craft them into a meaningful story.
For example, in the March 2015 release of the long-running Infinite Dial study, Tom challenged those who would say Facebook is nearing its end with teens.
Digging into the numbers, he realized Facebook's slowing growth with young people isn't because they're leaving the social network in droves. It's actually because there are so many young people already on Facebook — fully 80% of those aged 12-24 — that the social network simply can't grow much more.
He also noticed some things that weren't necessarily obvious in the numbers. Noting that people were also challenging whether Facebook is still 'cool,' Tom offered that this might not be the right question to ask.
With its easy-to-use login features in place, Facebook has quickly become a gateway into apps and sites across the Internet. "A Facebook account is the new driver's license," Tom said. "Getting one isn't cool — it's what you can do with it that is."
Naturally, one of the best ways to hear Tom's unique perspective is to attend his session at Content Marketing World 2015, where he'll be talking about developing a mobile content plan that works. I know I'll be there…join me!
Learn more about Tom by visiting his bio page on our website, checking out Edison Research or by connecting with him on Twitter.
And be sure to register for Content Marketing World 2015 today! Our early bird discount ends on May 31 and you can still use the code 'CMI100' to save $100. Visit our registration page to get started right now!
Posted May 6, 2015 in: Event by Mike Myers
---