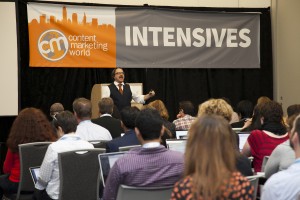 Measurement. It's that thing we all know we have to do but no one volunteers for. Like the dishes. The group of speakers presenting in the advanced measurement track at Content Marketing World 2015 will make you want to pull on those rubber gloves and start scrubbing (your data) because they are all expert-level practitioners who are recognized for their ability to make the complex easy to understand.
Just when you thought it wasn't safe to learn about measurement, these great offerings came along and made it all okay:
Content Marketing Measurement – Is ROI Really What We're Looking For?
Be prepared to have your mind blown. CMI's Chief Strategy Officer Robert Rose knows the higher-ups at your place are asking for return on investment of Content Marketing. Everybody is. But Robert is asking, should that be what they are asking for?
He believes ROI is not the best way to look at Content Marketing and you're going to want to hear why.
LEVEL – Advanced
There's a lot of talk about return on investment as a marketing metric. But ROI in inherently flawed for campaign-based marketing. However, a new, evolved look at Content Marketing might make ROI just exactly the remedy we need to build a better business case, and measurement for Content Marketing. In this session, which will kick off the measurement track, we'll cover:
Why ROI is an inherently flawed metric for marketing, and what to do about it
Uncovering new ways to measure content marketing as a support function to marketing, AND as an initiative that builds value over time.
Look at how Content Marketing and ROI fit much more naturally, and helps to build a more solid business case for the practice we're all striving to scale in the business.
This will be an honest, bare naked truth of measurement and content marketing.
The Chemistry of Content Measurement
Ever feel like the last kid picked for the kickball game? Well, let's just remember what happened to that kid…s/he went on to college – at age 14 – got his/her advanced degree before you were even out of high school and is now pulling down seven figures without even breathing hard.
Know who can help you do that? Andy Crestodina, that's who.
He's co-founder of Orbit Media, a sought-after speaker when it comes to anything measurement-related and, as if that weren't enough, he's author of the book Content Chemistry: An Illustrated Handbook for Content Marketing. So, yeah. Here are the deets:
LEVEL – Advanced. This Advanced Measurement session is for content marketers with two years of experience or more.
Some marketers have all the luck. They get way more shares than you. They get tons more email subscribers than you. They get much higher search rankings than you. Their content is good, but not great. So what are they doing differently?
There are insights, waiting to be discovered in your Analytics. This presentation will teach you how to find those insights and use them to drive better results.
How to find the topics that your audience craves…and that they're finding somewhere else.
How to find the phrases that you can rank higher for quickly…with the smallest effort
How to maximize value from your current visitors…by gently guiding them toward desired interactions
The Content Marketing Metrics That Matter: How to Measure, Visualize and Report on Content Performance
What gets measured gets done. Somebody said that (although I have no idea who it was) and they were right. In this session PR 20/20 founder and CEO Paul Roetzer will help you know how to align your measurement with business goals so everyone goes home happy. Technology is great, but without a great process it's just a bunch of charts and graphs. Here's how Paul can help:
Marketing technology advances have made it easier and more affordable to connect activities to outcomes, but content marketers have largely dropped the ball when it comes to monitoring, reporting and improving performance. The key is to align content marketing KPIs with overall business goals, have a logical and well-documented process for updating and reporting results, and develop systems for turning data into intelligence and intelligence into action.
Attendee takeaways:
Prioritize content marketing goals.
Identify Key Performance Indicators (KPIs).
Select the right analytics technology and tools.
Optimize your use of Google Analytics.
Turn data into insights and actions.
The Content Wheel: Sustaining Momentum with Greater ROI While Punching Unicorns in the Face
You might not want to let your kid sister know about this session…'cause unicorns are going down!
In it, VP of Platform at NextView Ventures Jay Acunzo will tell you what you need to do to fly right by those unicorns using what he calls the Content Wheel. His presentation will help you understand how to align your content with your product or service by creating a seamless playbook that will also help you do it consistently. Sound good? You bet it does.
LEVEL – Advanced
Every single day, successful startups have to out-compete the big guys, from Fortune 500s to startup "unicorns" (companies that exploded to great scale seemingly overnight). How do they do it when they lack both resources and existing audience? By running the Content Wheel — a sustainable, iterative approach to publishing and distributing content, building audiences and stacking the ROI deck in your favor.
In this talk, we'll cover…
How to be genuinely prolific from your audience's perspective while feeling nice and organized internally.
How to match your content to your product in a way both you and your audience will love.
How successful startups and innovative marketers adapt this flexible playbook to their specific needs.
For more information on our Advanced Measurement sessions, visit our Advanced Measurement Track page. And don't forget to use the code CMI100 to save $100 off of your registration. Do it today!
Posted July 30, 2015 in: Event by Mike Myers
---